Blueberry Oat Wheat Muffins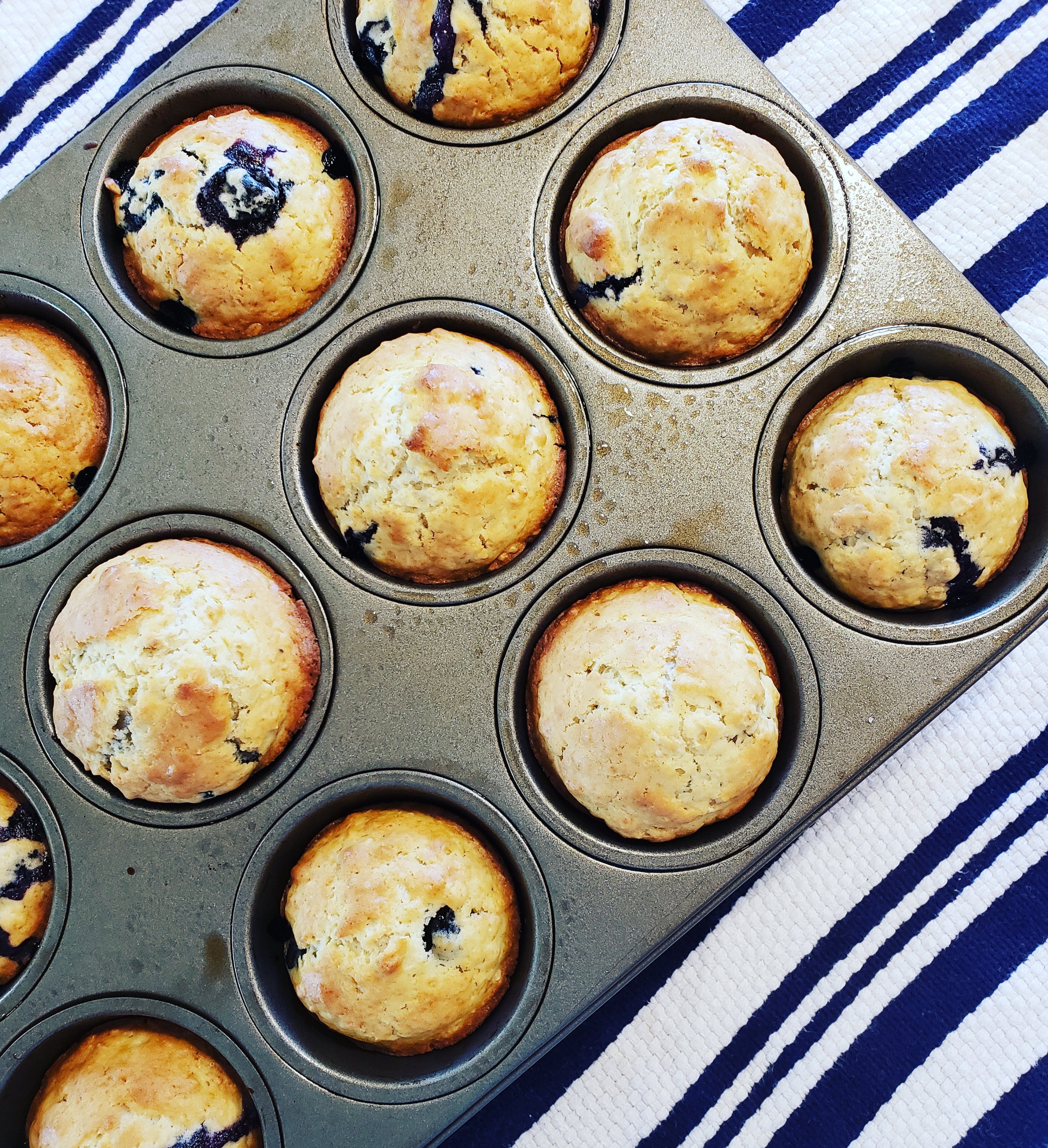 If you're looking for a filling morning on-the-go breakfast, these muffins are the best one's we have made so far! And the difference is soaking the oats for 20 minutes in milk. It sounds like an annoying task, but honestly, it MAKES these muffins so fluffy and delish. Enjoy – both kids devoured them today!
Ingredients
1 cup (240ml) Sassy Cow Milk
1 cup (80g) old-fashioned whole rolled Quaker Oats
1 and 1/4 cups (156g) wheat King Arthur Flour
1 teaspoon baking powder
1/2 teaspoon baking soda
1 teaspoon ground Penzeys cinnamon
1/2 teaspoon salt
1/2 cup (115g) unsalted butter, melted and cooled
1/2 cup (120ml) honey (or 1/2 cup sugar)
1 large egg, at room temperature
1 teaspoon vanilla extract
1 cup (190g) fresh or frozen blueberries (do not thaw)
Directions
Combine milk and oats. Set aside for 20 minutes so the oats puff up and soak up some moisture. This is what makes the muffins! Dont skip. You can, but the muffins will be flat.
Preheat oven to 425°F (218°C). Spray a 12-count muffin pan with nonstick spray or use cupcake liners.
Whisk the (DRY INGREDIENTS) flour, baking powder, baking soda, cinnamon, and salt together in a large bowl until combined. Set aside.
Whisk the (WET INGREDIENTS) melted butter, honey, egg, and vanilla extract together in a medium bowl until combined. Pour the wet ingredients into the dry ingredients, stir, then add the soaked oats (milk included, do not drain) and blueberries. Fold everything together gently just until combined.
Spoon the batter into liners, filling them all the way to the top. Top with oats and a light sprinkle of coconut sugar, if desired.
Bake for 5 minutes at 425 then, keeping the muffins in the oven, reduce the oven temperature to 350°F (177°C). Bake for an additional 15 minutes.
Cool on wire rack.
Yield is about 12. ENJOY! These can be stored in an air-tight container for 1 week, or pop into the fridge for 2 weeks. Don't leave them out the open too long, blueberry molds quickly! Have a great week!
With love & light.