Door County Vacation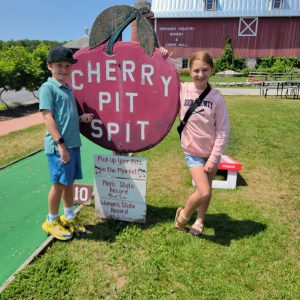 Travel should be fun and exciting, even when you have food allergies or restrictions. Each year we travel to Door County. It's a simple trip we've made every summer since the kids were born. Door County is just 3.5 hours from where we live, and the drive isn't too bad. Usually there is at least one stop on the way there to grab a snack and take a break. Once we get past the Green Bay Packer's football stadium, it's smooth sailing and everyone gets excited to make a stop in all of our favorite small towns up the Door Co peninsula.
Sister Bay is the town we have been staying in the last few years. Sister Bay is nestled in the middle of Door County on the west coast of the peninsula. We typically stay at Pheasant Park which is walking distance to the beach. The sunsets are lovely! This hotel is actually a condo complex that is rented out. Units come in 1,2 or 3 bedroom rentals. Each unit has a full kitchen, which we love since we typically cook and menu plan like we are at home. Pheasant Park has a very homey and lodge-like feeling. In addition to their spacious condos, the grounds are lush with mature trees, two pools, a rainbow play structure, gas campfire place with log seats, space for hammocks, outdoor games, game room, party room, outdoor porch swings, family and game room, on-site laundry, coffee room, and a big grilling area with multiple grills for use (except if you have food allergies).
Our trip this time was very unplanned. Work was busy before we left and I wasn't 100% sure that we'd make it up. But we did and I'm so glad it worked out. Our first night we ate at Husby's on the main street in Sister Bay. This restaurant was excellent at handling our food allergies. They talked with us several times before the food came out. They cleaned a special space in the kitchen for Chloe's chicken wings that she ordered. She was very comfortable eating here, as was I. And who doesn't love pull tabs!? Husby's also has lots of TV's so Carter was able to watch the Brewer game and listen to music outside since they had live music the whole weekend we were there!
After dinner we stopped by the local grocery store, Piggly Wiggly, and stocked up on breakfast items, snacks, and lots of veggies to chop up for snacking with hummus. This store had some of our brand favorites like Enjoy Life!
The next morning we ate our favorite nut free brunch at Al Johnsons. Each year we ask about food allergies at their restaurant and we get the same response, its safe! Chloe got two servings of pancakes with whipped topping and strawberries.
We stopped at Pirates Cove adventure golf after walking around downtown for a bit. We had lunch at home since we were going to have a fun dinner out!
One of Chloe's favorite spots is Boathouse on the Bay restaurant. Its a seafood restaurant that has zero nuts in their restaurant. She loves the shrimp and gets it each year. It's seasoned lightly with old bay, one of her favorites! This year she asked if the soups were safe, and the kitchen said YES! If you're looking for a good place to watch sunset, this restaurant is IT!
We spent a LOT of time just swimming at our hotel, relaxing, doing word searches, coloring contests and having some in-depth conversations about various funny things, and life in general. I loved this vacation because it was such a good time to connect with the kids. As present as I try to be each day, there is something about ZERO distractions and pure conversation with them that is so special to me.
Before we left, Chloe really wanted to go on a boat ride. We found one in Egg Harbor, another small town in Door Co about 30 minutes from Sister Bay. This boat doc was actually a blessing in disguise. The day ended up having very windy conditions and waves outside of Egg Harbor bay were very large. Chloe got her boat ride, although a little smaller area than we hoped, but it was still so much fun! We packed a small cooler with fresh veggies, hummus and sandwiches (I did bring bread from home, since this is always our hardest item to find away).
Our last stop on our way home was Lautenbachs in Fish Creek. We always do the cherry pit spit (also safe) with the kids to see who can spit the farthest. Usually Carter wins. Chloe trys very hard!
Another relaxing Door Co visit complete, until next year!