Downhill Pandemic Skiing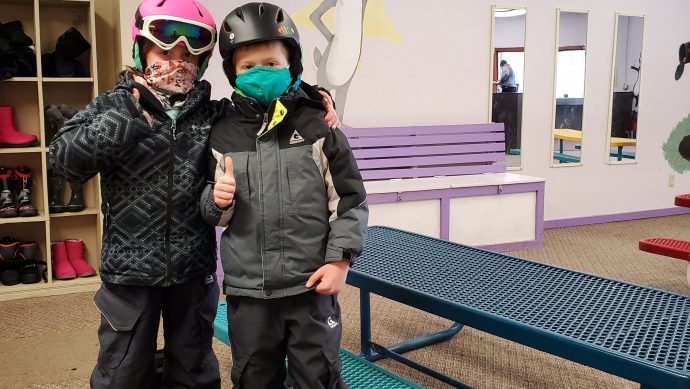 Outdoor activities seem to be more popular than ever before due to the ongoing pandemic.  One activity that we have always enjoyed is downhill skiing. I learned how to ski when I was young, and this year I had the chance to continue teaching Chloe and Carter how to ski as well. In this post I'll share some tips on how we skied this weekend in a relatively safe way.
Before skiing, make sure you grab a large tote that is light weight and can get wet from snow. We packed all of our gear in this tote and took it with us to bundle up once we got to the ski rental area. This bag then held our wet snow boots and was tossed back into the car while we skied. At the end of the day, we put all of our ski gear back in this tote. Lockers are NOT available this year at Devils head due to pandemic.
Pack extra masks or wear a gator. Our masks got wet from condensation and needed to be changed frequently.
If you are skiing with an epi pen like us, make sure it's secure in a small back pack or front pocket in a case and kept at the appropriate temperature.
We chose Devils Head ski area because they offer small group ski lessons, which many places do not offer this year. Social distance, masks and very small groups made us feel comfortable. Our group had 8 kids and everyone had a mask and was spaced out.
We chose to go first thing in the morning on a Sunday because it was less crowded. Night tickets are also less cost and less crowded. You could also call ahead to see what the skiing is like.
If your kids are with you and skiing, be mindful of the parking. Don't get the kids pooped out before you start skiing with a long walk to the chalet. Devil's head has one large parking lot, either dropping the kids off at the entrance, or arriving early to park near the hill are recommended. Today we got the first spot, which came in handy since we left our water bottles in the car and took short breaks close to the hill.
All lift tickets, rentals and lessons were ordered online in advance. We ordered a ski lesson, a youth lift ticket and youth rental x 2. When you get to the ski hill, you just scan a bar code from your email to get your printed lift ticket outside. If your email wifi is not great at the hill, take a screenshot before you leave your home and save it in your gallery.
You do have to enter the building shortly to get your rentals if you are renting equipment. If you're not renting, you do not have to go inside for anything, except the bathrooms. If you call in advance, I'm sure the rental equipment could be left outside the rental door for you to pick up and ski. We were the only ones in the kids rental area today.                           
We avoided the chalet/lodge/eating areas indoors. Tailgating is allowed in the parking lot, so we packed our usual nut free items in a bag and enjoyed them outside near a campfire. Lots of people were tailgating when we went.
If your kids are taking the lessons for the first time, parents, I'd leave your snow pants and boots on the entire lesson (90 min) and help the kids on the hill. I ended up not skiing at all this time and just helping C + C get good at stopping and turning. This turned out to be excellent exercise!
We had a great instructor today who was full of positive and encouraging words, the best kind of teacher to have for your 2nd lesson! The kids loved it! And I did too.
When you're done skiing and packing up at your car, be sure to plug in your GPS your route home since the wifi will not be great until you get out to HWY 12. (and I'm not great in this neck of the woods!)
Wifi on the ski hill is not great – if you are with a group, we recommend walkie talkies. Cell service was also not great.
Lift rides are limited to household members only, so the line may take tad longer.
Downhill skiing is not free from Covid, but taking some precautions can make this a relatively safe outdoor activity this winter.
Have fun. Be safe!