Cranberry Oat Breakfast Bars
Recently I attended a yoga retreat with my friend Misty who brought these amazing bars along as a snack.  Misty is an incredible woman who helps at our school a LOT (she's my work wife, we joke), so I knew her treats would be as amazing. And they were! The Cranberry Oat Breakfast Bars are the perfect treat – not too sweet and super healthy. And since Craisins (dried cranberries) are a safe, PN/TN free food, I thought this would be a perfect recipe to add to our mix of healthy snacking. Also, kids approved today when we made this recipe for breakfast – crumbles well over yogurt if you're into parfaits! Apologize for the photos – not my best work lately. But you get the idea.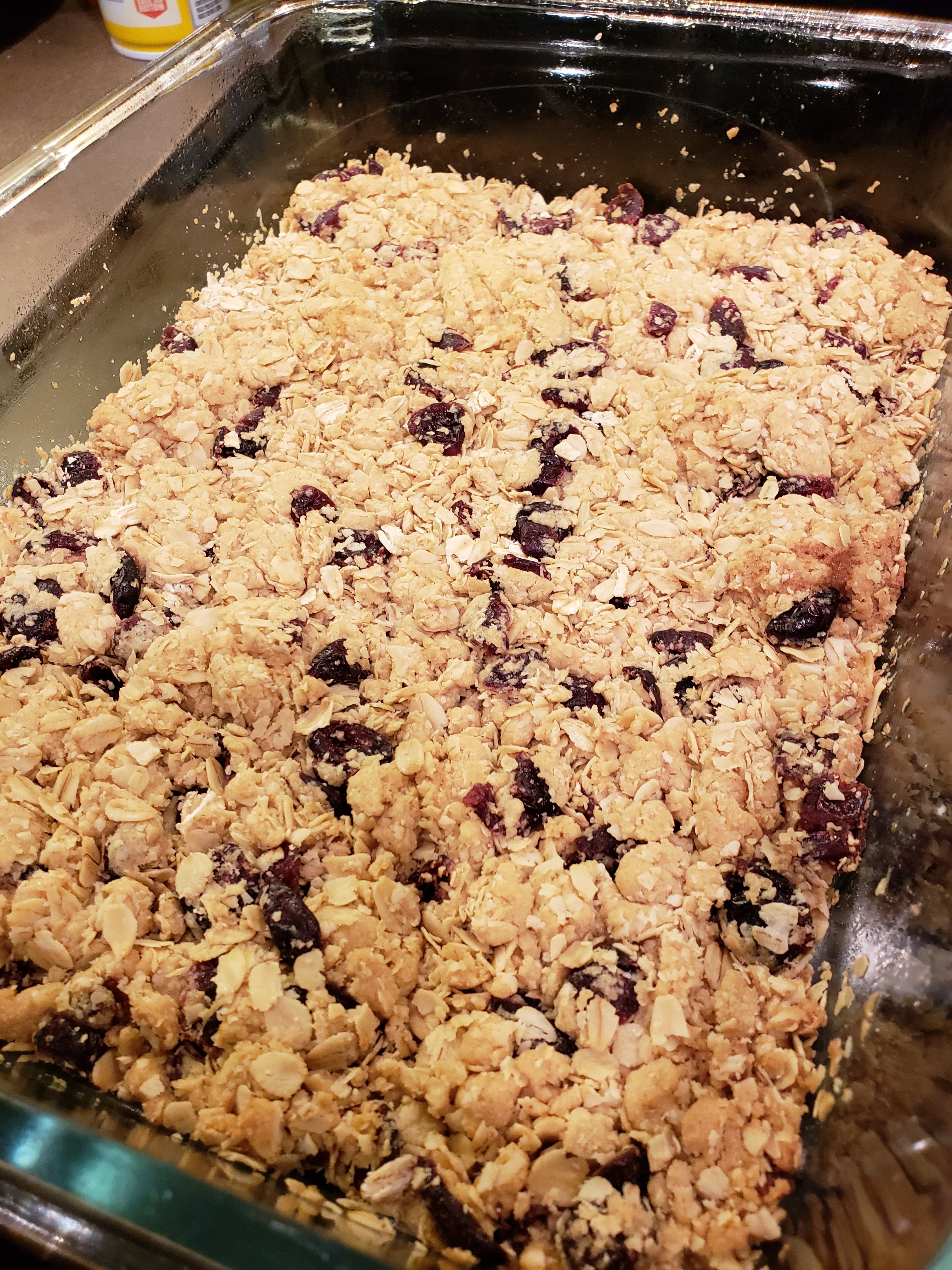 Ingredients
2 cups oats – Quaker Oats are safe
1/2 cup flour – King Arthur
1/2 tsp baking soda
1/2 tsp baking powder
1/2 tsp salt
1/2 cup butter
1/3 cup white sugar
1/3 cup brown sugar
1 egg
2 tsp vanilla
1/2 cup dried cranberries – Craisins ONLY, there are a lot of dried fruits made in shared facilities with nuts, so be extra extra careful with this one!
Directions
Preheat oven to 350 degrees & lightly grease a 9×6 or 8×8 baking dish.
In small bowl, stir flour, baking soda, baking powder and salt. Set aside.
Cream together butter and sugars until smooth. Add the egg and vanilla and beat well.
Add flour mixture to the wet mixture, just until incorporated. Add the oats and dried cranberries and stir to combine evenly.
Pat batter into prepared pan and press it until mostly even. Bake 25 minutes, until the edges are golden and the middle looks dry and appears set when you jiggle the pan.