Happy 2020!
A new year, new decade, new home, new everything. 2019 was full of transition for us (and the journalism major part of me is screaming at that 2019 starting a sentence thing I just did, that's not proper. AP Stylebook would give me a thumbs down, but I'm over it.) and we are settling into a new routine and life feels good.
So good.
Our social family has kept us connected, sending all the good vibes, and without that, I'm not sure we would be where we are. It takes a village. And each day I am so grateful for everyone we have connected with over social; Enjoy Life, Safe Sweets, Pretzel Pete, Walt Disney World Resorts, and many Madison based brands to name a few. All the messages, emails, big re-grams, conference connections, FRIENDS made and treats in the mail made a huge difference in wrapping up 2019 and moving positively into 2020.
So, thank you!
This year has started off well. We are busy in the kitchen as it's birthday week! Our recipes this week have been quiet, and quickly posted to our IG stories. So hop over there to see our daily shenanigans. This week will be all about birthday prep as the big "9 is Fine" approaches ♡ so much love for this little lady as she plans out her big day.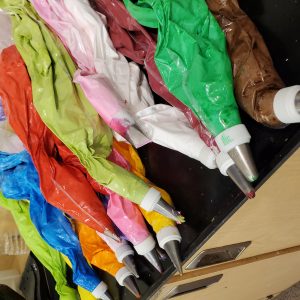 Party decor for Disney Descendants 3 – Evil Audrey
1. Amazon for cute decor packages like these: https://www.amazon.com/Birthday-Decorations-Supplies-include-Balloons/dp/B07STTDK3K/ref=mp_s_a_1_14?keywords=pink+party+supplies&qid=1578973587&sprefix=pink+party+&sr=8-14
2. Etsy for custom shirt https://www.etsy.com/listing/570496687/descendants-birthday-shirt-descendants
3. Party City for balloons + confetti https://www.partycity.com/descendants-3-balloon-bouquet-5pc-840289.html
4. Dave + Busters for fun with friends
5. The Cake + school cupcakes are 100% designed by the birthday girl using her tablet this year, and I'm so excited to help her bring her design to fruition. @vanillabean has all the nut free ingredients we need ♡
Stay tuned…I'll post a recap after the big day. Have a great week ♡