M Word Banana Bread (MWBB)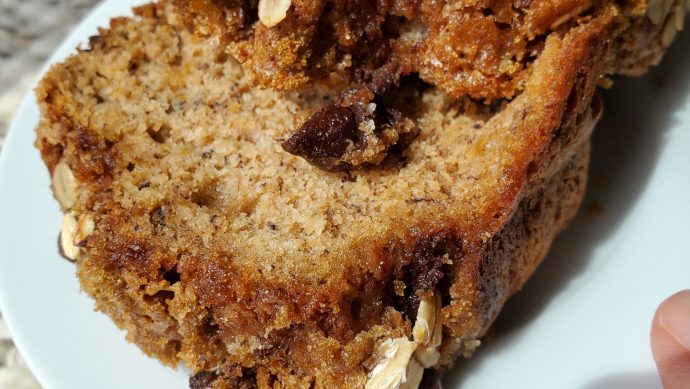 Hey guys! If you've been following our Instagram stories, you saw that amazing M Word Banana Bread we made last night. We're calling it the MWBB. If you dont know what M word stands for, I'll give you a clue (MOI$T). Just can't handle that word, or saying it, so M Word it is. The recipe turned out AMAZING. We've made about 15 different kinds of banana bread recipes over the past year and this one is BY FAR the best. Let me share it with you.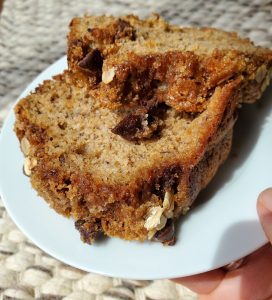 Ingredients
2 cups King Arthur all-purpose flour
1 teaspoon baking soda
1/4 teaspoon salt
1/2 teaspoon Penzey's ground cinnamon
1/2 cup unsalted butter, room temp.
3/4 cup brown sugar
2 large eggs
1/3 cup plain Fage Greek yogurt
2 cups mashed bananas (about 2-4 large ripe bananas)
1 teaspoon pure vanilla extract
Topping
Handful of brown sugar
Handful of Artisan Kettle chocolate chips
Handful of Quaker quick oats or rolled oats
Directions
Preheat your oven to 350 and prepare either one loaf pan or two mini loaf pans with non-stick spray and set aside.
Whisk the flour, baking soda, salt, and cinnamon together in a large bowl.
Using your Kitchen Aid mixer, cream the butter and brown sugar together on high speed until smooth.
Add the eggs, beating well after each addition.
Mix in the yogurt, mashed bananas, and vanilla extract on medium speed until combined.
Slowly add the dry ingredients into the wet ingredients until smooth.
Pour the batter into the baking dishes and top with brown sugar, chocolate chips and oats. Bake for 1 hour at 350. Depending on your oven, you may want to check on your breads at 45 minutes to see where they are at. Typically, one full hour does the trick.
Cover and store banana bread at room temperature for 2 days or in the refrigerator for up to 1 week.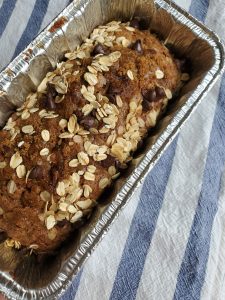 Don't forget to share with your friends, neighbors and co-workers! Have a great weekend.