EMS and EPI PENS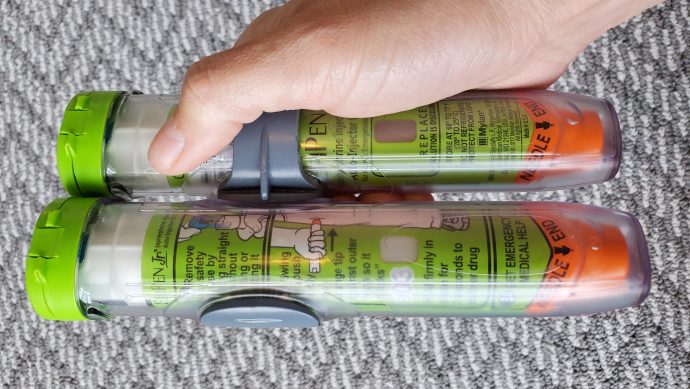 Happy Friday everyone! We recently had a conversation on Twitter about Emergency Medical Services (EMS) / ambulance carriers and their ability to help people with food allergies and anaphylaxis. The concern was that due to pricing, EMS might not able to properly carry epi-pens in all emergency vehicles. Today, we dug a little deeper into our own community, Madison, WI (Dane County).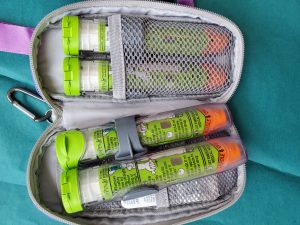 Before we dig in, did you know that there are 4 levels of Emergency Medical Service Responder training? The National EMS Scope of Practice Model defines and describes four levels of EMS licensure:
Emergency Medical Responder (EMR)
Emergency Medical Technician (EMT)
Advanced EMT (AEMT)
Paramedic.
Each level represents a unique role, set of skills, and knowledge base
First, we called Middleton Emergency Medical Services. They were so helpful. We learned that they have the the highest level of responders, Paramedics (level 4, most amount of training) on staff only. They go through extensive training, including how to administer epinephrine for certain allergies and anaphylaxis. The person I spoke with was very informed on various allergies and all of the different types of ways to treat allergies. He confirmed that they do have a multitude of medications readily available to treat an allergic reaction.
He also explained that to be licensed by the State of Wiscosin you have to meet a certain criteria as an EMS provider, and that treating allergies is not part of the certification, its an elective. He also predicts that allergies are so common, that greater than 95% of EMS responders would have these medications avaialble. The assumption is that with rising costs, smaller communities that have volunteer based EMS would be the locations that might not have the training for these medications, or the medication available. Overall, he concluded that most responders do carry this medication and could help if a food allergy were occuring.
Second, we called Ryan Brothers on Park street in Madison, WI. They were also extremely helpful. They said that while they do not carry the Epi-Pen auto injector, they do carry viles of epinephrine that would be drawn with a syringe and administered the same way as an epi-pen. This is partly due to the rising costs of epinephrine, which was also confirmed by Middleton EMS. Both emergency response teams agreed that the price of epinephrine has become extremely high, leading to the lower cost method of administering.
Ryan Brothers stated that there are various medications and ways to administer medications to stop an allergic reaction. They also have a wide variety of responders for various types of medical situations including EMT, Paramedic and then RN. They confirmed that a food allergy / anaphylaxis is something that they are absolutely capable of assisting with.
If you have a chance, take your kiddos to a "Touch a Truck" event. Typically there are ambulances, firetrucks, etc. available for the kids to climb in, walk around and meet the responders. This is SO SO SO important incase your kiddo is ever in an amergency, they are not afraid of these very important helpers.
We feel so good to have this information – there is a TON of misinformation out there and now we know – when we call for emergency services, they also carry the same medication we carry in our purse + backpacks! Just in case. Thank you, Madison EMS carriers.
Click here for a $300 savings coupon from Mylan toward your epi-pen.