Mickey's Not-So-Spooky Halloween Party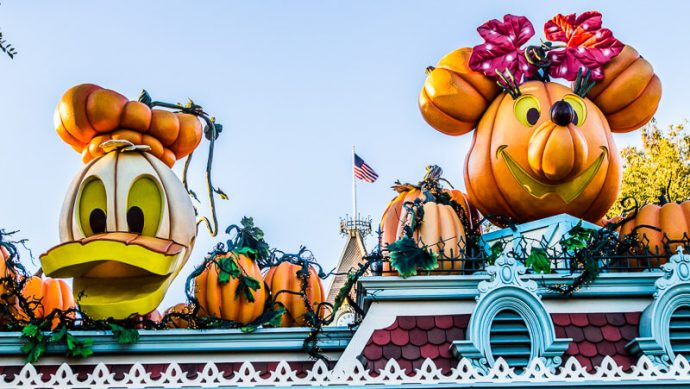 Our magic bands are active, the fast passes have been seleced, our mail hold is complete and our countdown to Mickey + friends is officially ON! We couldn't be more excited! We have Mickey's Not-So-Spooky Halloween Party (MNSSHP) to look forward to!
We LOVE Halloween, especially my littlest dude, Carter. He loves all things scary – he read Goosebumbs books at the age of 5 and was thrilled with the movie! MNSSHP is going to be perfect blend of fun, and allergy friendly loveliness.
"Sorry, I have food allergies," is typically what Chloe has to say each October 31 when we are trick-or-treating. Thank goodness for FARE's Teal Pumpking Project and all the friends in our are who participate, but trick-or-trating is anything but normal for us. However, MNSSHP makes it flawless and fun. The party starts at the main gate in Magic Kingdom and each ticketed guest gets a treat bag, either "normal" or "teal" and you trick or treat throughout the park. Teal guests get tokens and non-food treats in their bags and at the end of the night, can redeem at 2 stations what they'd like instead of candy treats.
We know that the risk of physically contacting an allergen is higher at trick-or-treat times due to friends eating snacks immediately, not washing hands, and participating in group activities. We will have 2 twin pack epi-pens with us, and all the hand wipes you can think of. We most likely won't be eating at the park, with the exception of a small snack by Enjoy Life from our backpack.
Huge thanks to this blog post for some great Halloween Party tips, read more here.
The kids decided on their own that they'd each like to take a single stroller along – there is a LOT of walking at WDW. Chloe will have a small umbrella stroller from, ahem, 9 years ago. And Carter is taking the Uppa Baby Vista with rumble seat (for his treasures, of course). Honestly, we have a double stroller, but the kids combined weight is a little over 100#. The Uppa Baby can accomodate them better than the Joovy Double Wide. Plus with crowds, we think handling a single vs a double is easier. The wheels on Chloe's stroller look like they might bust off when taking turns, but that's OK! We might just leave that stroller in WDW when we're done!!! The Uppa has 2 seats after all 🙂
Have a great week – we are going to talk about nut-free costmetics and packing them for some upcoming trips! Our Instagram will have more detailed stories about it.
Our nut free mom box will be shipping in early September, so stay tuned for the treats we find to pack in it.