White Chicken Chili
Baby it's cold outside! We were not ready for the 18* Wisconsin weather this morning. Well, let me re-phrase that. I was not ready for this bitter cold. My kids on the other hand, all they can think about is, "MOM IS IT GOING TO SNOW? WE LOVE SNOW!"
This chicken chili recipe will warm you up in no time. And if it happens to snow, you'll be prepared for 3 nights of dinner, easy. That means you can snow blow your driveway and not worry about your tummy. This recipe makes a lot. So with that, we have thought of how we might recycle the leftovers.
Chicken Chili over Jasmine Rice.
Chicken Chili, minus the liquid, in a soft flour tortilla to make a burrito
Chicken Chili as just chicken chili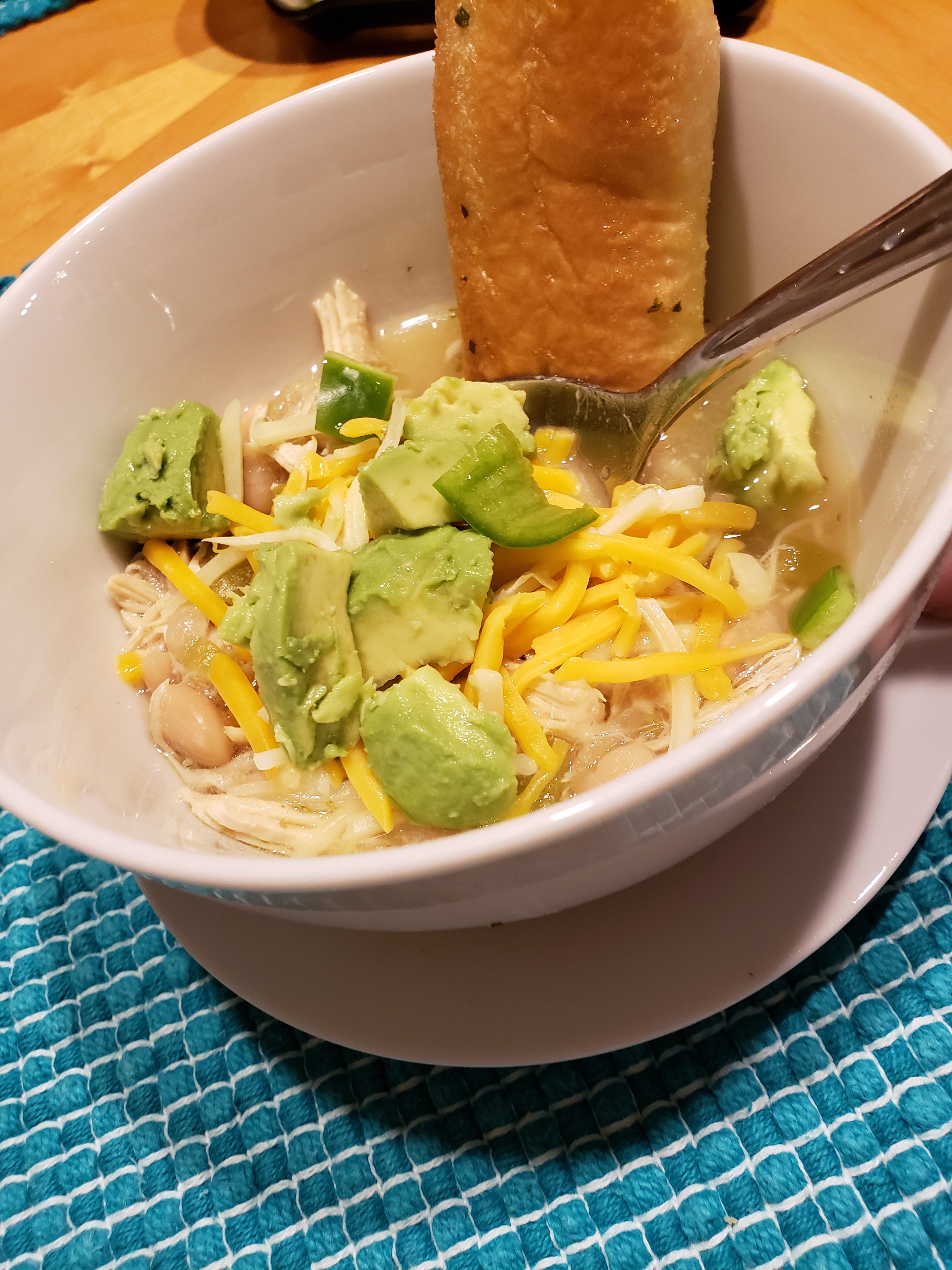 Ingredients
1.5# of chicken
4 cups of low sodium or no sodium chicken stock
2 cans of white beans (great white northern) drained and rinsed
2 cans of green chiles (I used the super small cans)
3 cloves of garlic (or 3 palm fulls of garlic powder)
1 palm full of onion powder
2 tsp cumin
1 tsp oregano + 1 more tsp after it's done cooking
salt and pepper + 1 heaping tbsp when it's done cooking if you did no sodium chicken stock
cayanne pepper if you like a sprinkle
sliced limes for garnish
avocado for garnish
shredded cheese for garnish
cilantro for garnish (yuck)
diced ancho chiles for garnish – if you want to substitute topping with scallions instead, kids would be more likely to eat it. The ancho chile is about the equivelent of a medium spicy salsa. Both my kids tried this pepper, but did not want it. To make it less hot, you could remove the seeds, slice it, and sautee or roast it, then serve it.  I liked it crunchy and raw, it was perfect for me, so I ate it!
Directions
spray the inside of your crock pot with Pam non stick spray.
Turn your crock pot on low
Place the chicken in the crock pot and all ingredients over the top of the chicken (listed above until you get to "garnishes")
Cook on low for 6 to 8 hours.
use a fork to pull apart your chicken, stir around, add the extra salt, oregano and garlic. Taste it. You might need 1 more tbsp of salt depending on the type of chicken stock you used.
Serve with garnishes.
Dunking!
Joseph Campione in the freezer section makes wonderful garlic bread and bread sticks. The kids LOVE them and they are nut free. I also like that they are made in my hometown, the OC! They warm up fast, too.

The garnishes really made this meal. Also, if you have picky eaters, you may want to conisder cubing the chicken first before you just put the whole chicken breast in. Cubed chicken is sometimes more appealing and easy to eat for kids. The shredded chicken can be funky to eat sometimes, but it is good for burriotos and tacos! You decide! Enjoy!