Pumpkin Spice Latte
There's nothing better than sleeping in on a rainy Saturday, lazily getting up and making a homemade Pumpkin spice latte.
Who am I kidding?
Saturday morning with kids means waking up at the crack of dawn. I got my little guy to snuggle until 7:15. That's sleeping in.
I need some Mom fuel.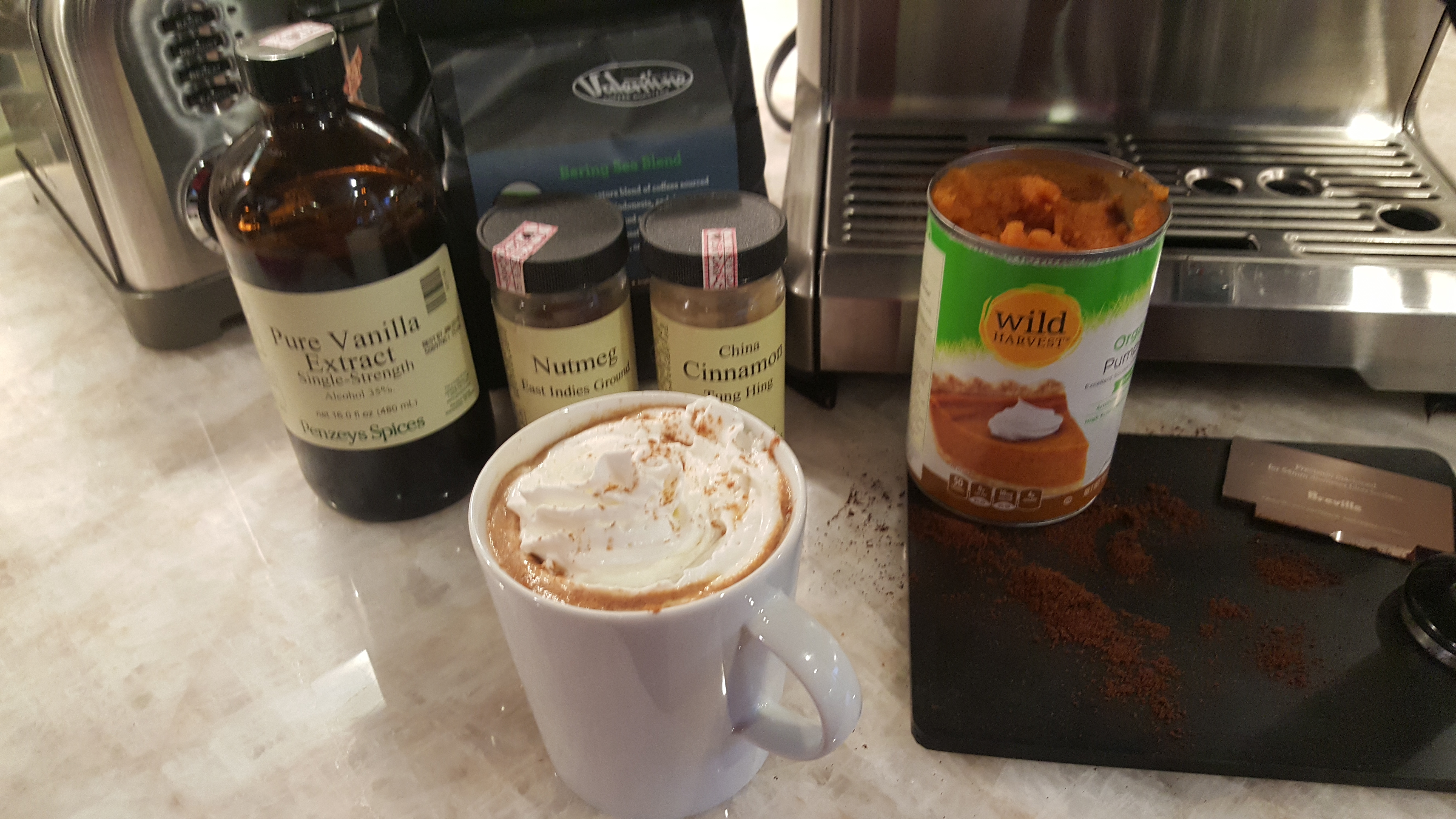 My hubs is busy working this weekend, so I need to bring my A-game to soccer today. It's rainy and wet and I really, really don't want to go. Really. (I'm blogging at 9:20 a.m., serious procrastinating happening now.)
This recipe is so easy, you could make it with your eyes closed. Even better, it makes a double batch, so you already have Sunday covered if you make this today.
You don't need a fancy espresso machine, just a sauce pan and a wisk and about a 1/2  to 1 cup of your favorite coffee. Or no coffee if you're sharing with kids, just top with whipped cream.
***This is made with real ingredients and real pumpkin, it will not taste exactly like the over processed, extra sugary Starbucks drink, but close. ***
Ingredients
2 cups milk
2 heaping tbsp pumpkin puree
2 tbsp sugar
1/2 tsp cinnamon – Penzeys!
1/2 tsp nutmeg – Penzeys!
Pinch of ground ginger (if you have it)
1 tbsp vanilla extract
Directions
Make your coffee / espresso (I like Valentine Coffee)
Fill your coffee cup 1/4 full of coffee
Warm all of the ingredients listed above up in your sauce pan, constantly stirring with wisk. Do not boil. Once it's warmed all the way through, about 5 minutes, pour into your coffee cup.
Yield, 2. Top with whipped cream if you have it, and sprinkle Cinnamon over the top.
You're welcome. This drink is awesome!!!
Now…..what to do with this leftover pumpkin??? Someone needs to sell pumpkin puree in 4oz size cans.
Pumpkin chocolate chip muffins
Pumpkin banana bread
More lattes
Mini pumpkin pies
Pumpkin spice donuts, baked
For nut free items, we do not get anything from Starbucks, except their boxed milks since the chance for cross contact is so high with a steamed milk beverage. There are so many different types of milk, almond, etc, that would cause a PN/TN to have a reaction.
Pumpkin is almost 100% safe, any brand, just check the label, and I 100% trust penzeys spices! This recipe is safe and easy for nut allergic peeps!
Happy little Saturday!
[wpvideo mGFfkOBS]