Sheet Pan Apple Pancake
Last week we visited a local apple orchard, Eplegaarden. It's an old Norwegian farm where the owners have done a wonderful job of preserving it. There is a small picnic area so you can bring in your own treats (and take the garbage when you leave), a real pick your own pumpkin patch, raspberry picking, apple picking, sweet bakery area (don't forget your epi-pens! Be safe and eat your own treats. Farms and Orchards are NEVER safe.) and some animals. We went mid-week and there were the only ones picking apples when we got there. I much prefer this, compared to the long lines and huge crowds at some pumpkin patches + apple orchards!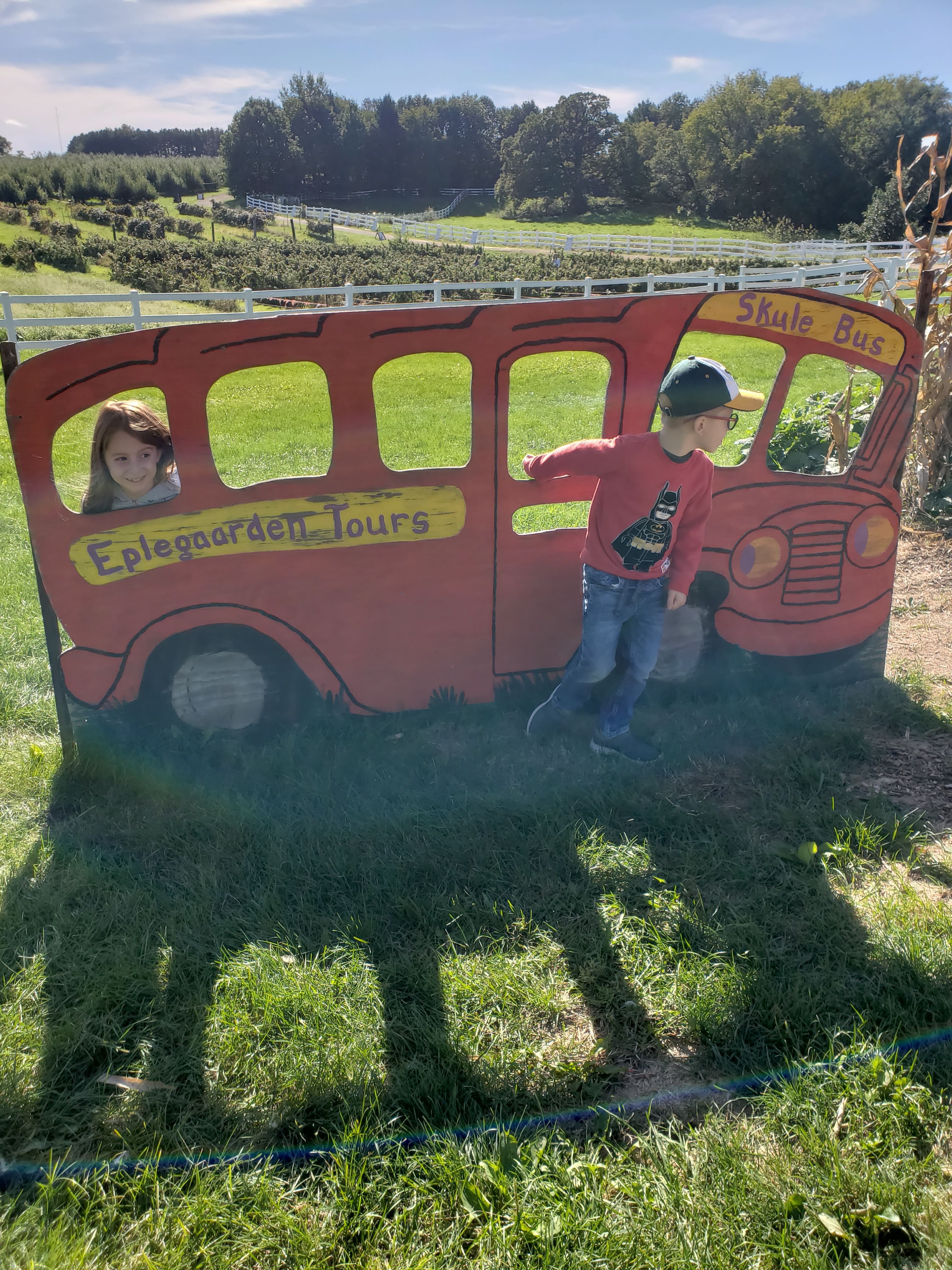 Now that we have 10 pounds worth of apples, here are the ideas that we have to use them all up.
Apple Pie
Apple Sauce
Apple Pancake
Sauteed Cinnamon Apples
Apple Cinnamon Muffins
Apple Cinnamon Bread
Apple Snack
Apple with Sun Butter
Give some away
Share with teachers!
We first ate a bunch, they are so juicy and sweet. Then we made some for dessert, this recipe was a huge hit last year! Then the kids and I tried to make sheet pan apple pancakes – and let me tell you. AMAZING!
I highly recommend doubling the amount of apples you use in the first "roasting" step. And, this is great for large crowds, like Thanks Giving sleepovers, or Christmas Morning. This makes A LOT of pancake. We ate this every day for 5 days, which I can't complain. Morning breakfast was so easy since we all just watned to eat apple pancake! It travels (aka breakfast in the car when we were running late!) well and re-heats VERY well in the microwave. You could put it in the frige to last a little longer.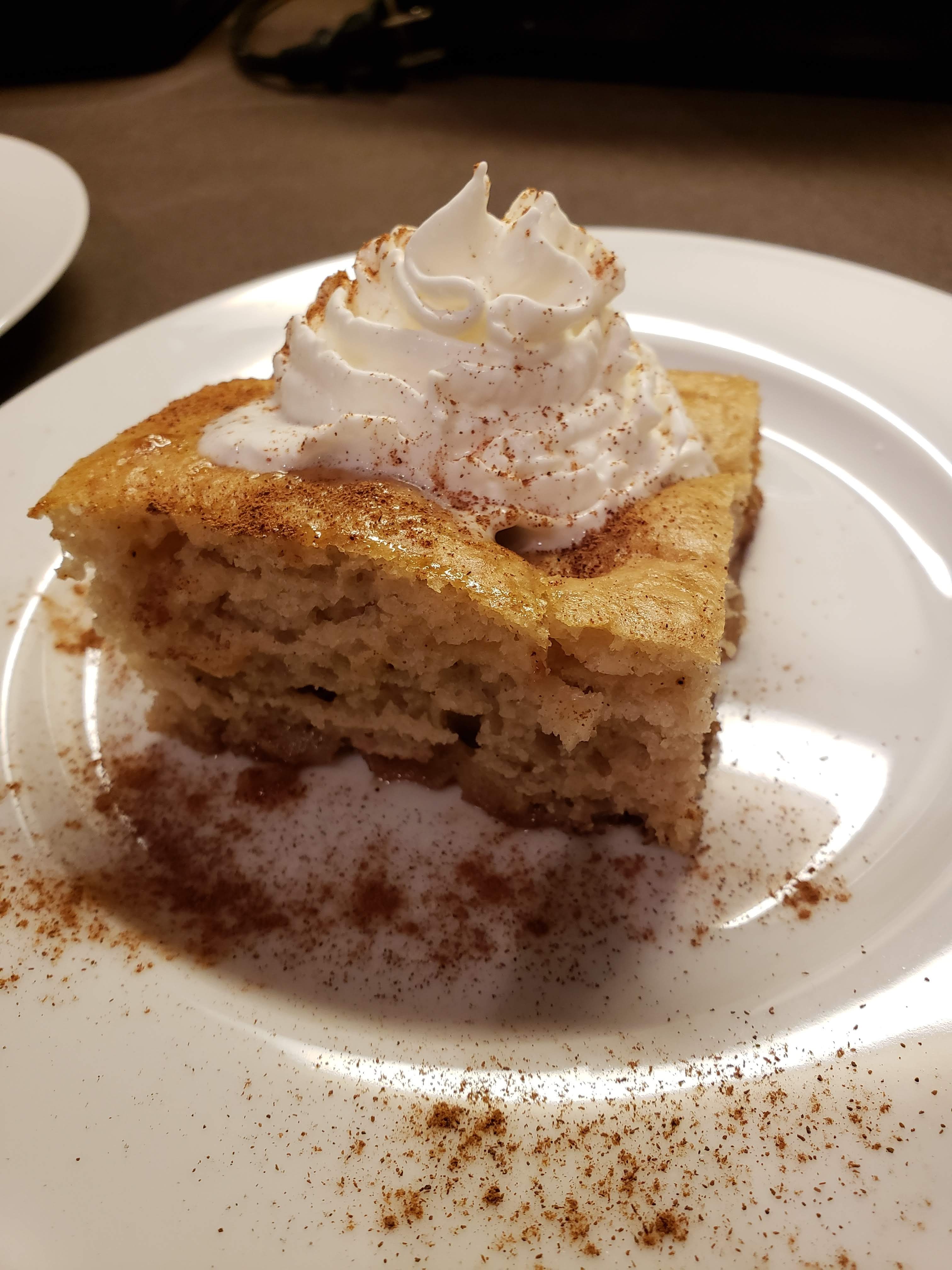 Sheet Pan Apple Spice Pancake
Ingredients
1/3 cup granulated sugar
1/3 cup packed brown sugar
2 tsp apple pie spice (Penzeys)
3 tbsp unsalted butter, room temp.
3 golden delicious or gala apples, peeled, cored and sliced into rounds
1 and 3/4 cup all purpose flour (King Arthur)
1 cup whole wheat flour (King Arthur) also, I did not have this, just use regular flour
1 tbsp baking powder
1 1/2 tsp baking soda
1 tsp salt
2 cups whole milk (regular is fine too)
3/4 cup whole milk greek yogurt (Fage greek 2% works too)
2 large eggs
1 1/2 tsp vanilla extract (Penzeys)
Topping
1 cup confectioners sugar
5 tsp apple cider
1/4 tsp apple pie spice
maple syrup or whipped cream
Directions
Make the pancake. Preheat oven to 400*, mix the granulated sugar, brown sugar and pie spice in a large bowl. Rub a rimmed baking sheet with 2 tbsp butter and arrange the apple slices on top in a single layer. sprinkle with 1/3 cup of the sugar spice mixture. bake until the apples are tender and the baking sheet is mostly dry. It will smell amazing, so be ready!
Next, whisk flour, baking powder, baking soda and salt into the remaining sugar mixture. Whisk the milk, yogurt, eggs, and vanilla in a separate bowl. stir the milk mixture into the flour mixture.
Pour the batter of the apples and spread to cover. Bake until dry and a toothpick inserted comes out clean, about 12 to 15 minutes. Brush the remaining 1 tbsp butter on it. Let cool.
Make the Glaze. Stir the confectioners sugar, cider and pie spice in a bowl. Drizzle over the pancake. Cut into squares. Invert onto plate and serve with syrup and whipped cream.
Enjoy!