Lite Strawberry Rhubarb Crisp
I fully intended on blogging tonight about my failed recipe disaster, minus an oven fire. You see, any creation that comes out of a kitchen with two wild animals roaming freely is bound to end in disaster, eventually, if not regularly. I regularly mess things up in the kitchen when I'm cooking / baking, mostly because I'm half responding to the random MOM, MOM, MOM, MOM questions buzzing in my ear. The point is not to dwell on it, then just eat it or throw it out and move on…to McDonalds.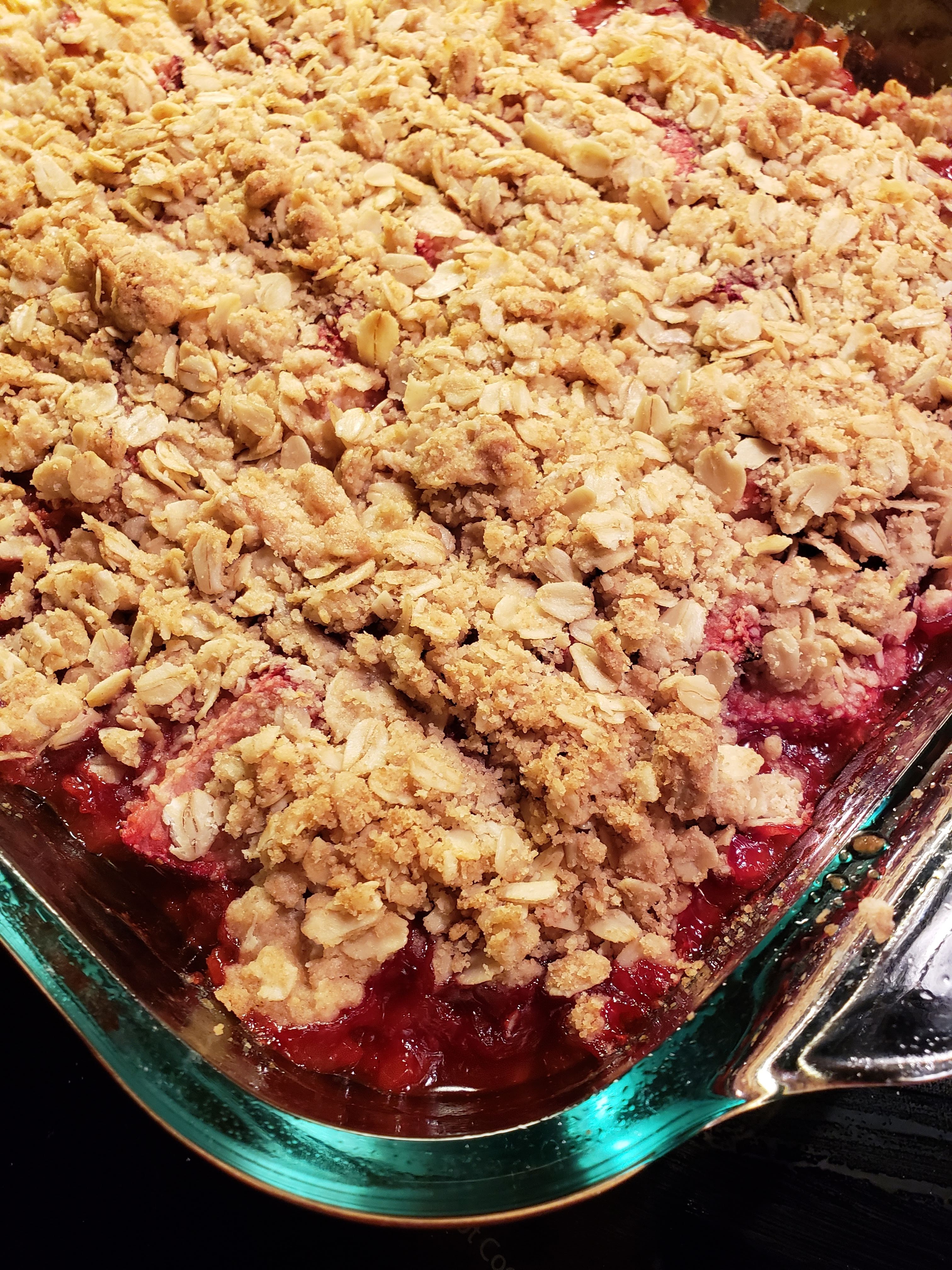 Fortunately, luck was on our side tonight. We were multitasking ninjas and decided it was a splendid time to whip up a lighter version of our favorite Strawberry Rhubarb Crisp, among other things. The recipe below is what we made. It looks soupy so make sure you have a drip pan below your 9 x 13 baking dish, and let it set up /cool after you're done baking it.
Strawberry Rhubarb Crisp
Filling
8 cups chopped rhubarb; I used 6 stalks and have no idea how many cups that came out to be, but it wasn't a lot.
1/2 cup granulated sugar
1 pound strawberries; I used about 8 cups of strawberries since I was short on rhubarb. The point is, just use up all your strawberries, fill your baking pan 3/4 full with berries and rhubarb. This does not have to be exact science.
3 tbsp cornstarch
2 tsp lemon juice (I didn't tonight since I did not have a lemon)
1 tsp vanilla
Topping
1 stick unsalted butter, room temp, not melted
1/2 cup brown sugar
1 cup flour
2 cups quick oats / rolled oats
3 tbsp canola oil
1 1/2 tsp cinnamon
3/4 tsp salt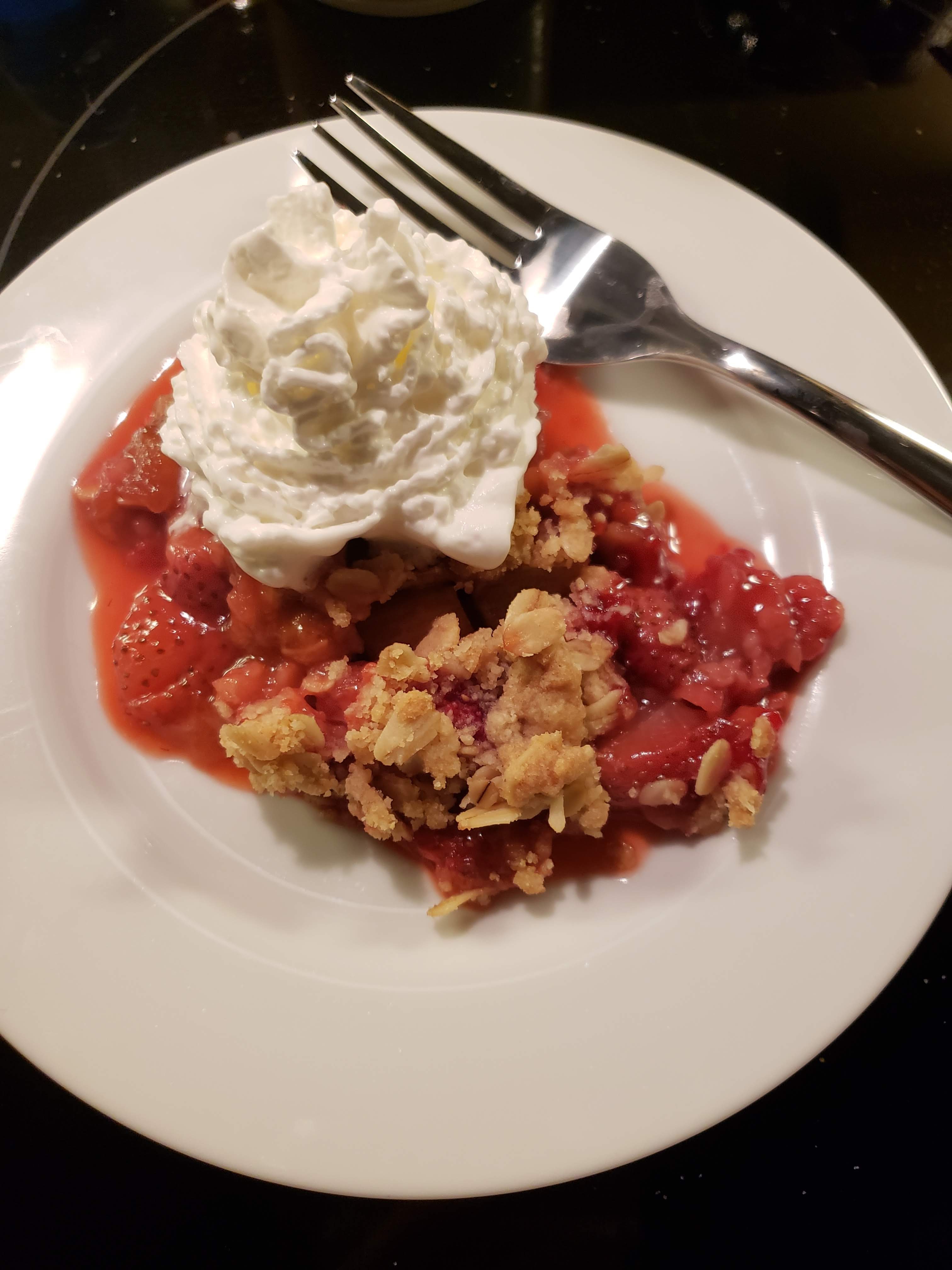 Directions
Preheat oven to 350* and grease a 9×13 baking dish with non-stick spray.
in a large bowl, combine all of the "filling" ingredients and combine well.
Pour the "filling" into the baking dish and set aside.
In another bowl, combine the "topping" and mix well with your hands. It should be a little clumpy, no need for a pastry blender. Clumps will bake out.
Sprinkle evenly the "topping" over the "filling" and put into oven.
Bake for 45 minutes, check on it.
Bake for additional 10 minutes or until oats are slightly browning and the juices are bubbling on the sides of the crust.
Be sure to bake with a lined + rimmed drip pan under neath.
Enjoy!
Serve with whip cream, ice cream and mint leaf!
*This recipe uses 2 cups less sugar and 1/4 cup less flour and + 1 cup additional oats than the original recipe. It's much less cake like, and has more oats for fiber.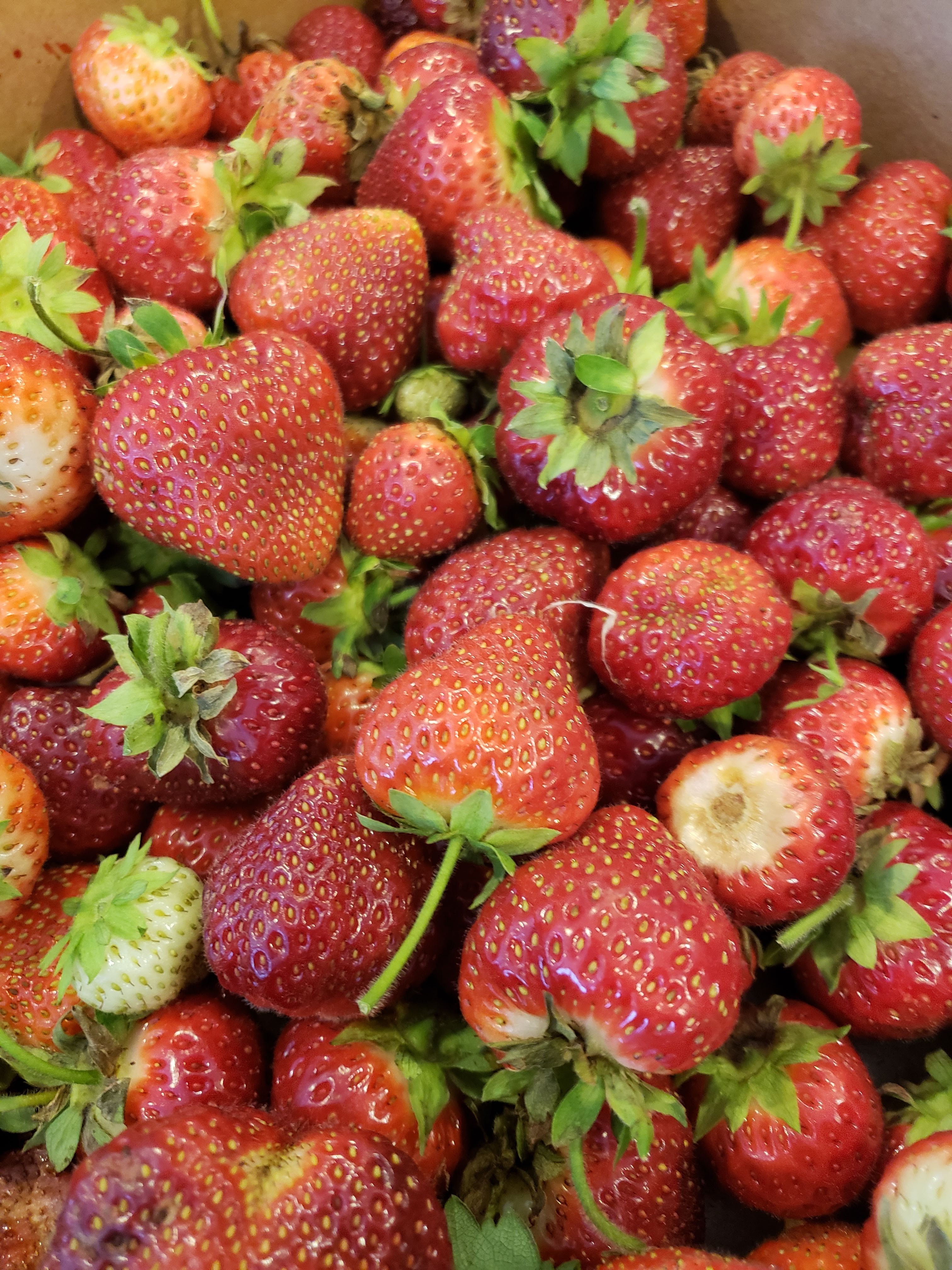 Enjoy strawberry season! It's short, so google your nearest farm, and get out there! It's so fun. If you don't have time to use them all up, rinse, hull and freeze in zip top bags for a month.  Or put them into zip top snack size bags for lunches and freeze; half frozen berries are the best snack in the summer (also makes it easy for morning smoothies if they are pre-portioned).