Slow Cooker Carnitas Tacos
Busy families, this one is for you! I highly suggest making it on a Sunday night so it's ready for your busy week ahead. This is easy 2 or 3 meals for a family of 4.
It was too sunny in our kitchen when I took this quick photo, but you get the idea of how YUMMY it was!!! We also sliced up some watermelon to eat with it, too.
For a short cut, I picked up pre-made pico de gallo from Metcalfes produce section, but canned salsa works, too! I like quick toppings with little to no prep time.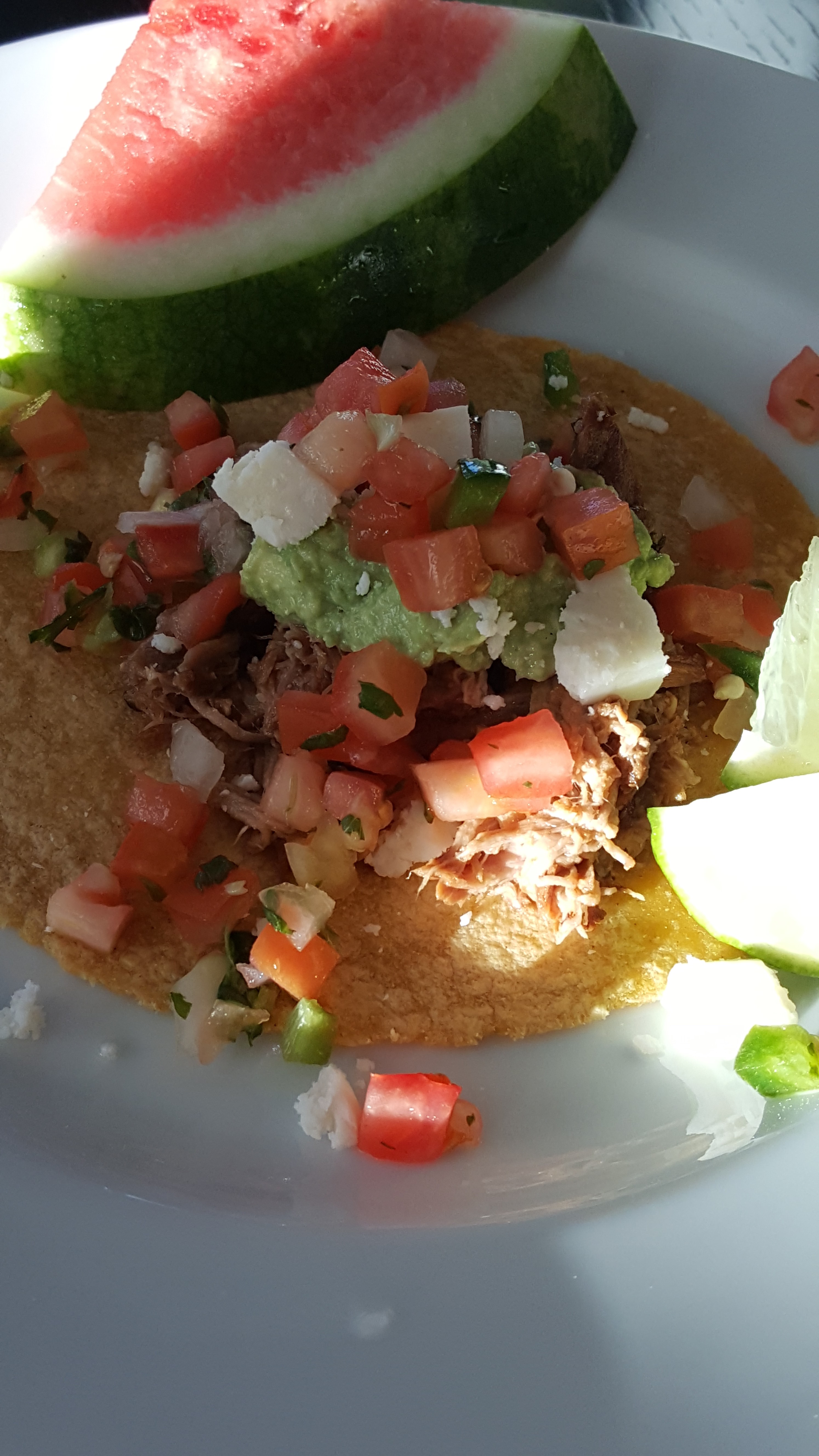 I griped a little on IG live about this recipe since it's a two-step (make marinade night before) type of recipe. Having to "mess up the kitchen" twice for one meal really seems pointless to me and I hate doing it. However, this overnight marinade is so simple and you don't have to dirty ANY dishes if you don't want to. Just dump a few ingredients into a bag. SUPER EASY, even I could do it, which says a lot.
Clean plate club all around two nights in a row with this meal. Love it since there is a lot of juicy, flavor in the meat, very filling and not spicy for the kids.  Good for all!
Slow Cooker Carnitas Tacos
Ingredients
1 3/4 boneless pork shoulder, trimmed (I had to ask for this from the butcher counter)
1 tbsp dark brown sugar
1 tsp kosher salt
1 tsp black pepper
1/4 cup lime juice (I just used one lime)
1/4 cup orange juice, divided
2 cups hot water
1 dried ancho chile
4 garlic cloves smashed
1 white onion, diced
1 bay leaf
1 cinnamon stick
2 oregano sprigs
1 tbsp oil
12 corn tortillas warmed
6 tbsp onion for garnish
cilantro for garnish
lime for garnish
avocado for garnis
cotija cheese for garnish
Directions
The night before, cut the pork into 3 inch pieces / chunks / cubes however you see fit. I just made three giant strips and place into a large zip top bag.

Add brown sugar
Add 1/2 tsp salt
Add 1/2 tsp pepper
Add 2 tbsp lime juice
Add 2 tbsp orange juice
Zip the bag up and remove as much air as possible. Set on a plate / bowl and place in the fridge (I do this in case the bag has a hole in it, last thing you want is to clean out the fridge!)

Place 2 cups hot water and ancho chile into bowl and let stand 10 minutes.

Drain and reserve 1/4 cup of the liquid

Transfer the pork from the zip top bag to the slow cooker + discard the remaining marinade.

Add garlic, onion, bay leaf, cinnamon stick, oregano, ancho chile, 1/4 cup reserved liquid, 2 tbsp lime juice, 2 tbsp orange juice
Cover and cook on low for 7-8 hours uninterrupted.
4.  Remove the meat and shred. The recipe says you can pan fry it in cast iron skillet to give it some crunch, but you don't have to, especially if you're short on time, just build out those tacos and eat!!!
Enjoy! We did!