Spring Carbonara
If you saw me on IG live cooking, you certainly got a nice preview of this dish, Spring Carbonara, inspired by Cooking Light Magazine! Also, that was Neuskes Bacon in my mouth while I was talking, sorry about that. Sometimes you need to sample as you cook! Actually, I encourage it!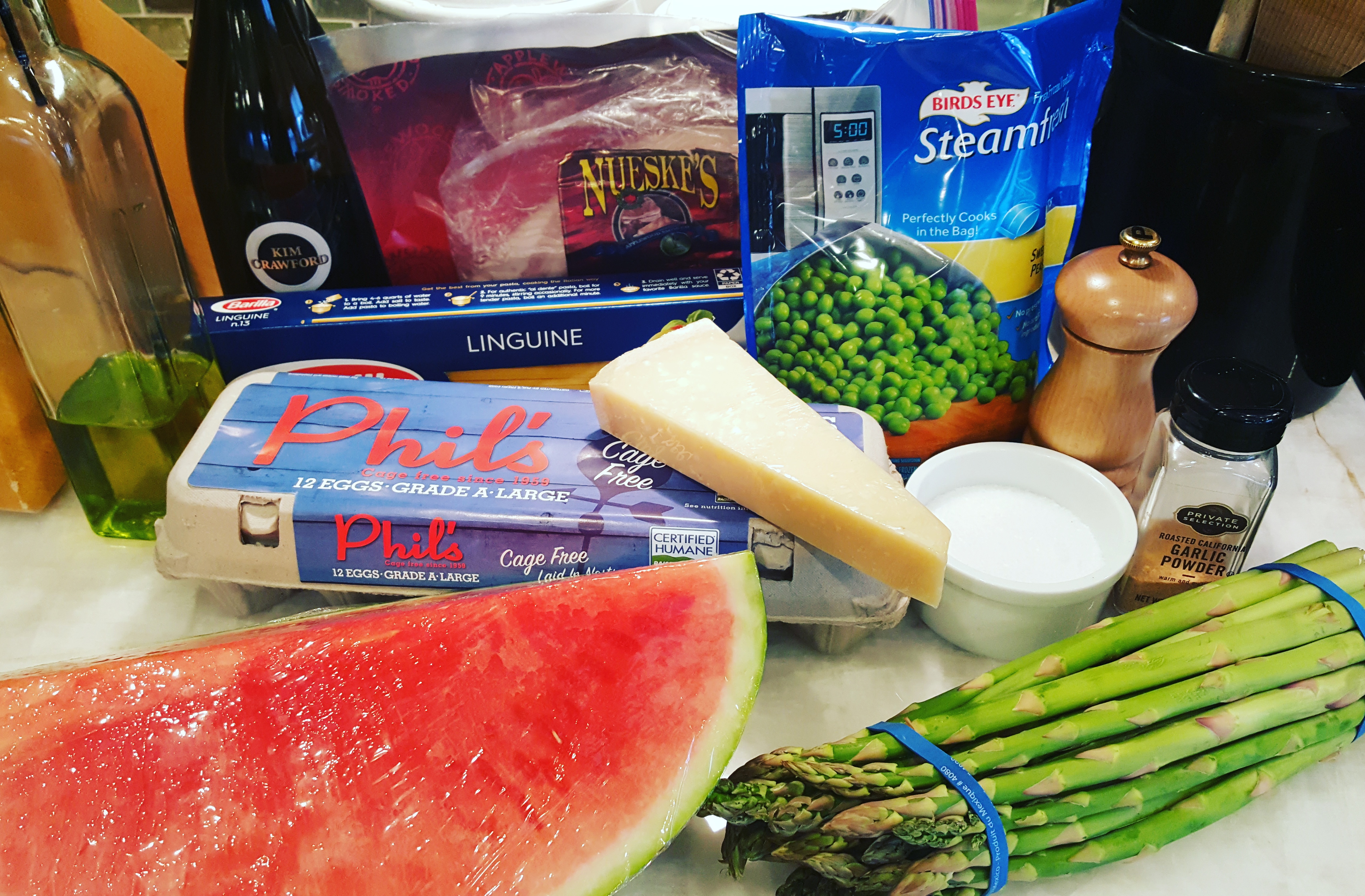 This recipe sets up really quick, perfect for weeknight cooking. There are no short-cuts on this one, just super fast and easy. It's almost asparagus season, and that makes me so happy because it's a flavorful vegetable! Asparagus season reminds of when I was in Stuttgart, Germany, for work a few years ago. EVERYTHING had asparagus in it, and it was so fresh and tasty.

Spring Carbonara
8 oz uncooked whole-wheat linguine (half of a regular box of pasta)
4 center-cut bacon slices, chopped (Neuskes)
1 1/2 cups finely chopped asparagus
1 clove fresh garlic, minced (or 1 tbsp powdered)
3 large egg yolks
3/4 tsp kosher salt
3/4 tsp black pepper
1oz Parmesan cheese, finely grated (use your microplane), divided
1 1/2 cups frozen peas, thawed
1/4 cup Kim Crawford to deglaze the pan
Directions
 Cook pasta according to package omitting fat and salt. Drain in a colander, reserving 3/4 cup cooking liquid (to use later on in your frying pan)
while you're cooking the pasta, add bacon to a large skillet over low; 6-8 minutes or until crispy. Transfer bacon to a plate lined with paper towel to rest. Add the asparagus to the pan full of bacon fat. Yes. Sautee the asparagus in bacon fat, it's amazing.
I added a little Kim Crawford at this point. It' was 5:10, and it seemed right. Mostly, my pan was getting sticky and dirty and I needed to get the crunchy bits off the bottom. White wine goes well with this dish, so why not?! Just a splash, no more than 1/4 cup and use your scraper to get the bacon off the bottom of your pan. If you are using a non-stick, this probably wont be an issue, and you should use bamboo utensils if you're scraping the bottom of your pan 🙂
Add garlic; cook, stirring often. About 3 minutes then transfer to the same plate as the bacon to rest.
Whisk together three egg yolks, salt, pepper and 2 tbsp parmesan in a medium bowl.
Add oil, drained pasta, 1/4 cup mixture to skillet and toss to coat. Heat skillet over medium and cook, stirring constantly until sauce has thickened, about 1 minute.  Add bacon, asparagus, garlic, peas and 1/4 reserved cooking liquid (pasta water, from pasta). Cook until heated through, about 1 more minute. Stir in more cooking liquid if your mixture looks too dry.
ANNNNDDD!!  Something happened to my photo of my meal, so here's what it looks like in the magazine! Enjoy! We loved it!