Nut-Free Easter Candy at Target
Here's a little sneak peepster into Easter! Last week, I stopped at our local Target in Madison/Fitchburg. Here's what they have in the seasonal section that is nut-free: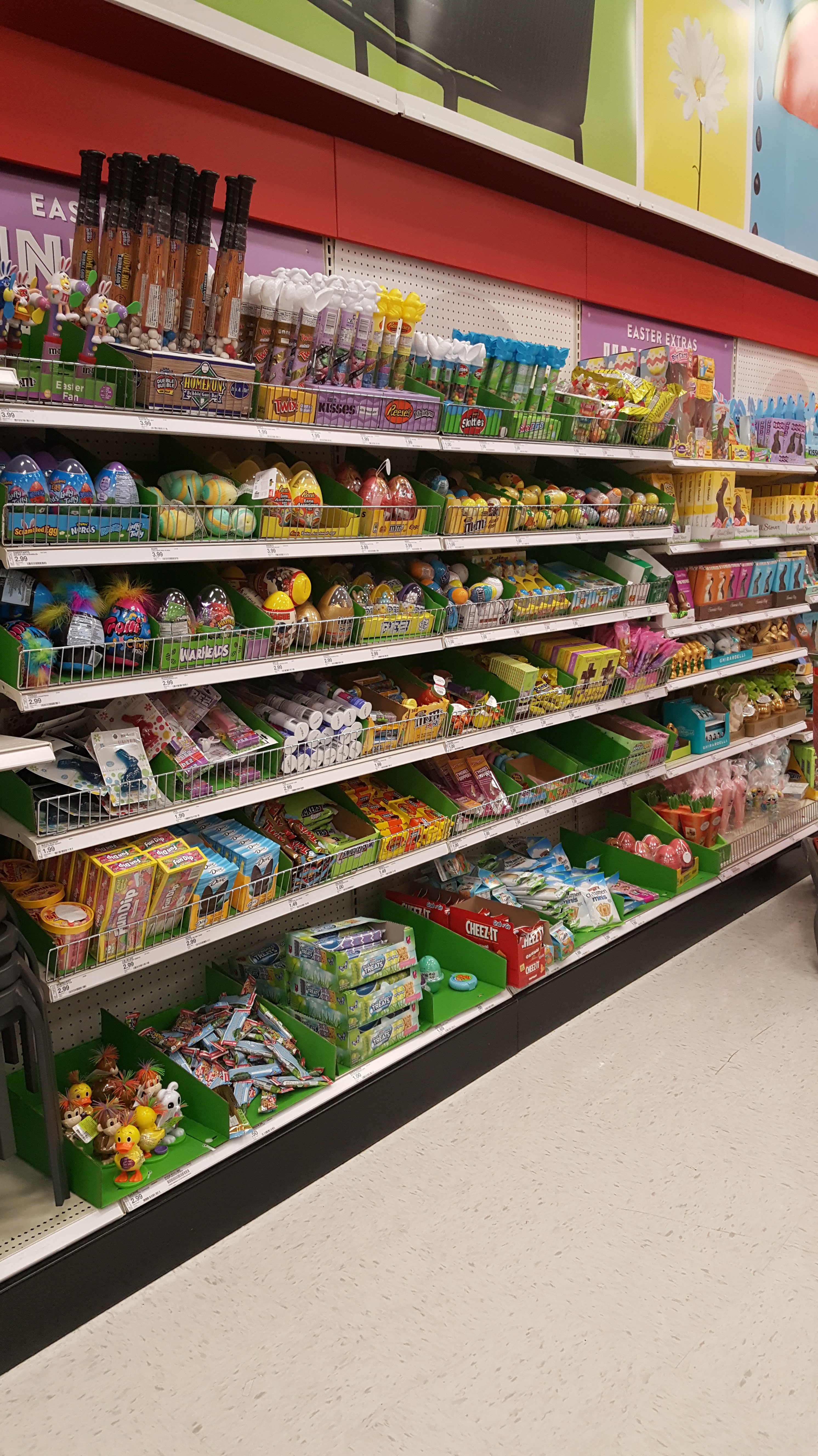 Fun Dip
Nerds Ropes
Skittles
Cheese-Its
Trolli
War Heads
Pez
Peeps in original packaging
Whoppers / Robbins Eggs
Smarties
Charms cotton candy / bunny tails
Hershey Kisses in the classic bag, not bulk bag (this is located in the non-seasonal section, near the regular candy / junk food aisle)
Be careful with the peeps. Easter Bunny majorly missed the labels last year and brought us the Peeps on the stick, those are not safe. They are made in a facility with tree nuts and peanuts. But some of the other Peeps ARE safe. I thought the cute stuffed animal peep with the marshmallow peeps below was super cute. But honestly, if we get one more stuffed animal…….

Easter Bunny tries not to give too much candy. Peeps are a big thing in our house though because Grandpa Joe REALLY likes them, and everyone knows it. So we have to have peeps. The kids LOVE peeps. Who doesn't love a good stale marshmallow?! We may save some of our extra peeps this year for campfire season – how funny would that be?! Peep S'mores?! Delish.
Lastly, Easter Bunny typically stops at
Vermont Nut Free
since they have the most adorable chocolates for Easter. How good does this assorted chocolate egg look?! All of their chocolates are so amazing. We typically order from Vermont Nut Free for almost every holiday. Their shipping is very quick and the quality of their product is above and beyond. Their chocolate is very, very good.
Jelly beans can be challenging this time of year, we are just going to go with Vermont Nut Free on this one, too, since many are made in a facility with nuts. And after talking with the Jelly Belly Factory, Jelly Belly is peanut free, but not tree nut free. Their facility in Pleasant Prairie processes pistachios.
Once we have a sample basket put together, I'll post it to my Instagram for you to see 🙂 Happy Hunting!