Chicken Breast & Pancetta Cream & Peas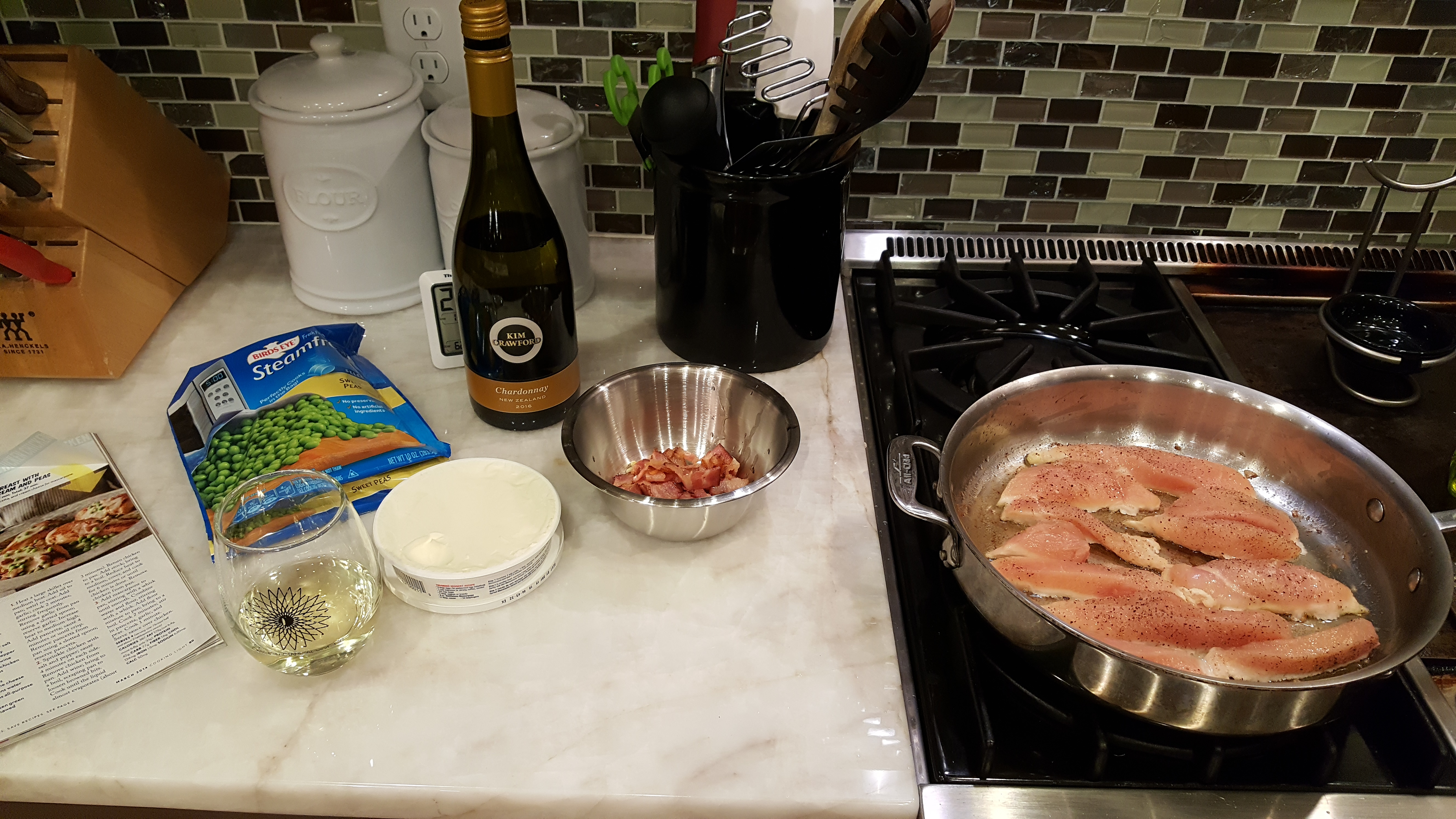 On Sunday mornings, after reading a bit of the New York Times, I start to think about the week ahead, how busy it might be, and what we will have for dinner. Lately we've been so busy that I haven't had much time to think about food, nor do I want to.
I don't day-dream about food, I just like eating it.
Coming up with recipes is challenging sometimes, I get in ruts, and making sure we're eating a diverse menu is important. Eating the same old stuff is boring, and we like to try new things all the time.
For meal inspiration this week, I found some old Cooking Light Magazines in my pantry and pulled all of the March issues I could find. March 2014 had some pretty yummy stuff, including this recipe, Chicken Breast + Pancetta [PAN-CHETTA] Cream with Peas.
Everything is nut-free, you don't have to worry about name brands with this dish. I'll include links in case you're curious as to what we used.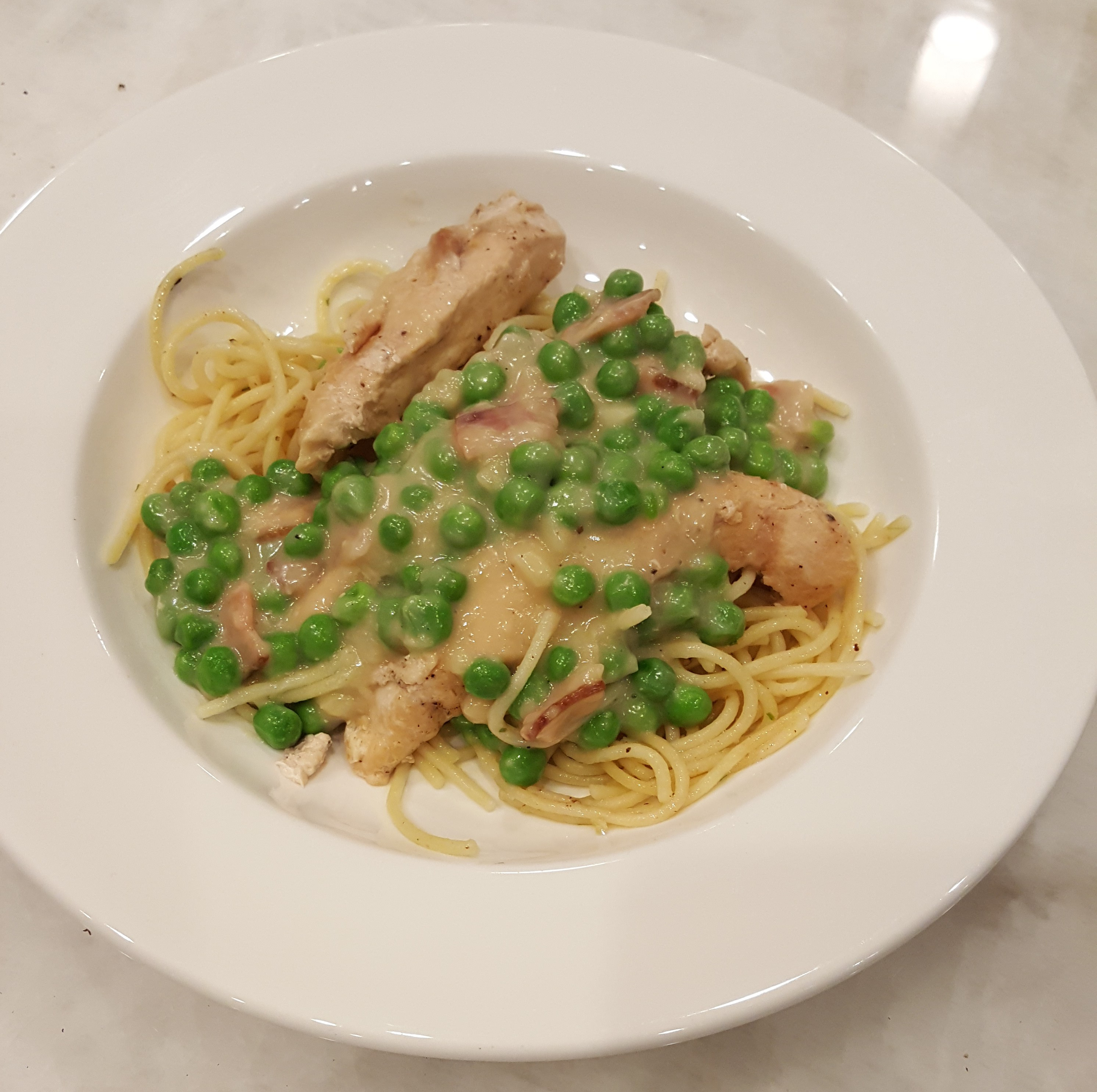 Chicken Breast & Pancetta Cream & Peas
Ingredients
Directions
Heat a large skillet over medium heat. It does not have to be non-stick.
Add oil, swirl to coat your pan.
Add garlic, cook 2 minutes or until fragrant. DO NOT BURN. If you do, start over.
Remove garlic with slotted spoon and set aside.
Increase the heat to med-hi and add the bacon / pancetta.
saute for 4 minutes or until crisp.
Remove and set aside.
Sprinkle chicken with salt and pepper on each side and saute for 4 minutes on each side.

I sauteed longer to get a little more flavor and crunchy bits on the bottom of my pan.

Remove chicken and set aside.
Add wine to pan and bring to a boil, scraping the bits off the bottom of pan (de-glazing). Cook until almost all liquid is evaporated

Also, make sure you're drinking some Kim, too :).

Return the chicken to the pan. Add the chicken stock and bring to a boil. Reduce heat to medium, cover and cook the chicken for about 6 minutes or until chicken is all the way done.
Remove the chicken from the pan (is the chicken playing the hokey-pokey? This recipe sure does take stuff in and out of the pan a lot!)
Add the mascarpone cheese stirring with a whisk until smooth

Mascarpone is lower in fat than making a traditional cream sauce, like butter, but still gives it the rich, creamy texture we all love.

Combine water and flour, stirring with a whisk.
Add flour + water mix to the hot pan, bring to a boil and cook two minutes, stir in pancetta / bacon, garlic and peas.
Cook this all for about 1 minutes and serve over the chicken.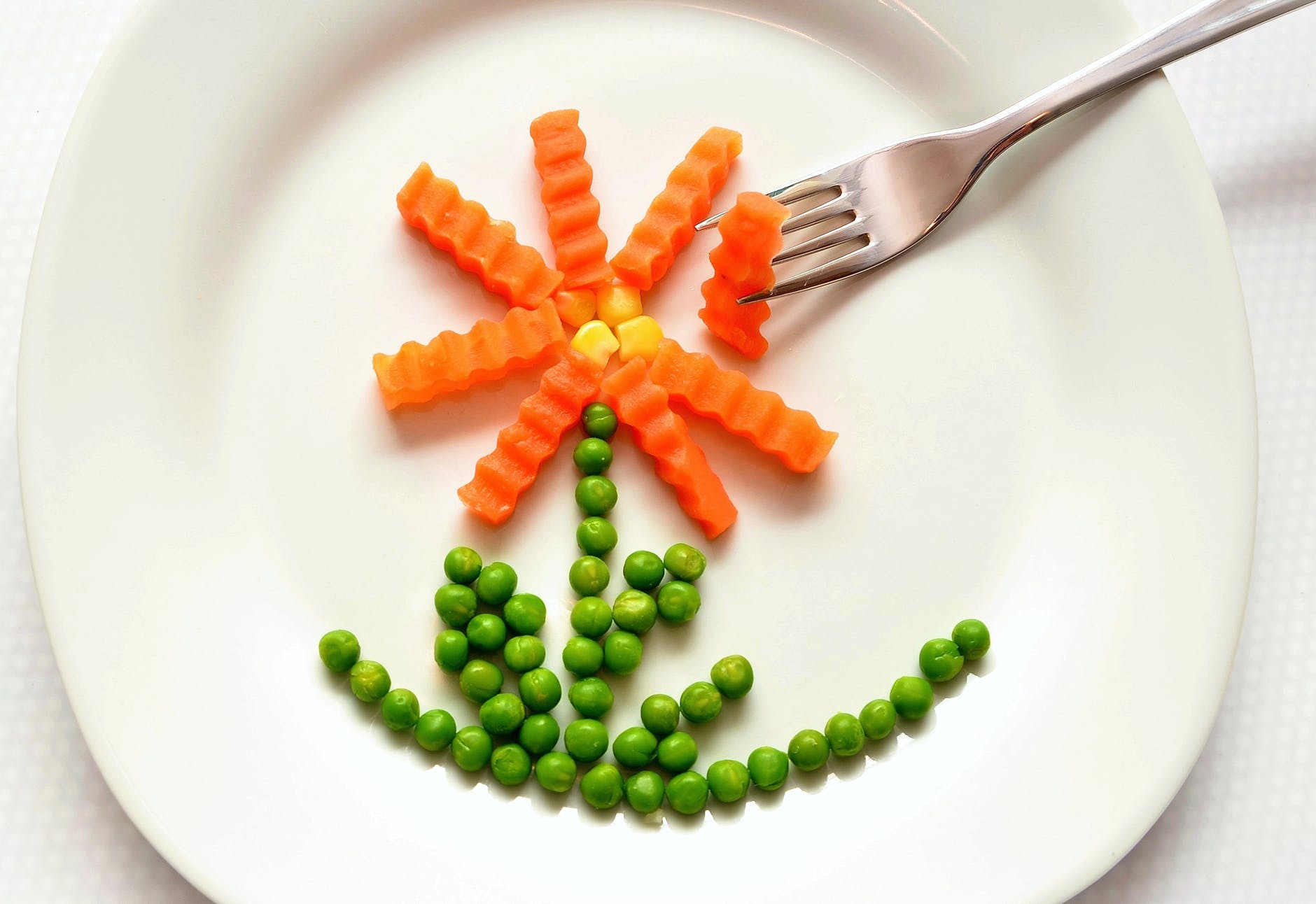 If your kids are in the kitchen, have them make some appetizer art, you'll probably have a TON of peas left since you'll only be using about 1 cup for the recipe, so let the kids have the rest. And tell them you "peed" on their plate. ROFL.
If you want to cut this recipe time in half, do this…..
Buy a rotisserie chicken.
Make the sauce as directed above, omitting the meat instructions.
Serve this over your rotisserie chicken or mix in your shredded rotisserie chicken into the pan and warm through. It would look more like a casserole then.
We also made some pasta to serve this over, it just needed a little something on the side.
Yield on this is 4. No leftovers. Everyone loved it. Flavor was good!