Great Wolf Lodge Resort Review
What is the most family fun + allergy friendly hotel we have ever been to?
Great Wolf Lodge in the Wisconsin Dells. 
The Great Wolf Lodge located in the Wisconsin Dells has been around since the mid-1990's. As a kid, we visited the then named "Black Wolf Lodge" as a family over summer breaks. This amazing, family-friendly resort was developed by the Watermans, a well-known Wisconsin Dells family.  The Watermans have roots that date back into the late 1800's of developing successful service industry related businesses.
This past Friday, Chloe had off of school, so she got to pick what to do for the day. She choose a water park. It was cloudy, cold and sleety, a perfect day to escape the Wisconsin elements in a warm water park.
It only took us 45 minutes to get to, which is a nice get-away, not to far, but far enough with kids asking, "Are we there yet?"
Upon arrival, the kids (yes, we pulled Carter from school early to come, too) were greeted with these adorable wolf ears (headbands) as we were checking into our room. Our wrist bands were also our rooms keys, so that was an added bonus of not having to constantly wonder where the keys were! The wrist bands also gave us access to the water park for our stay.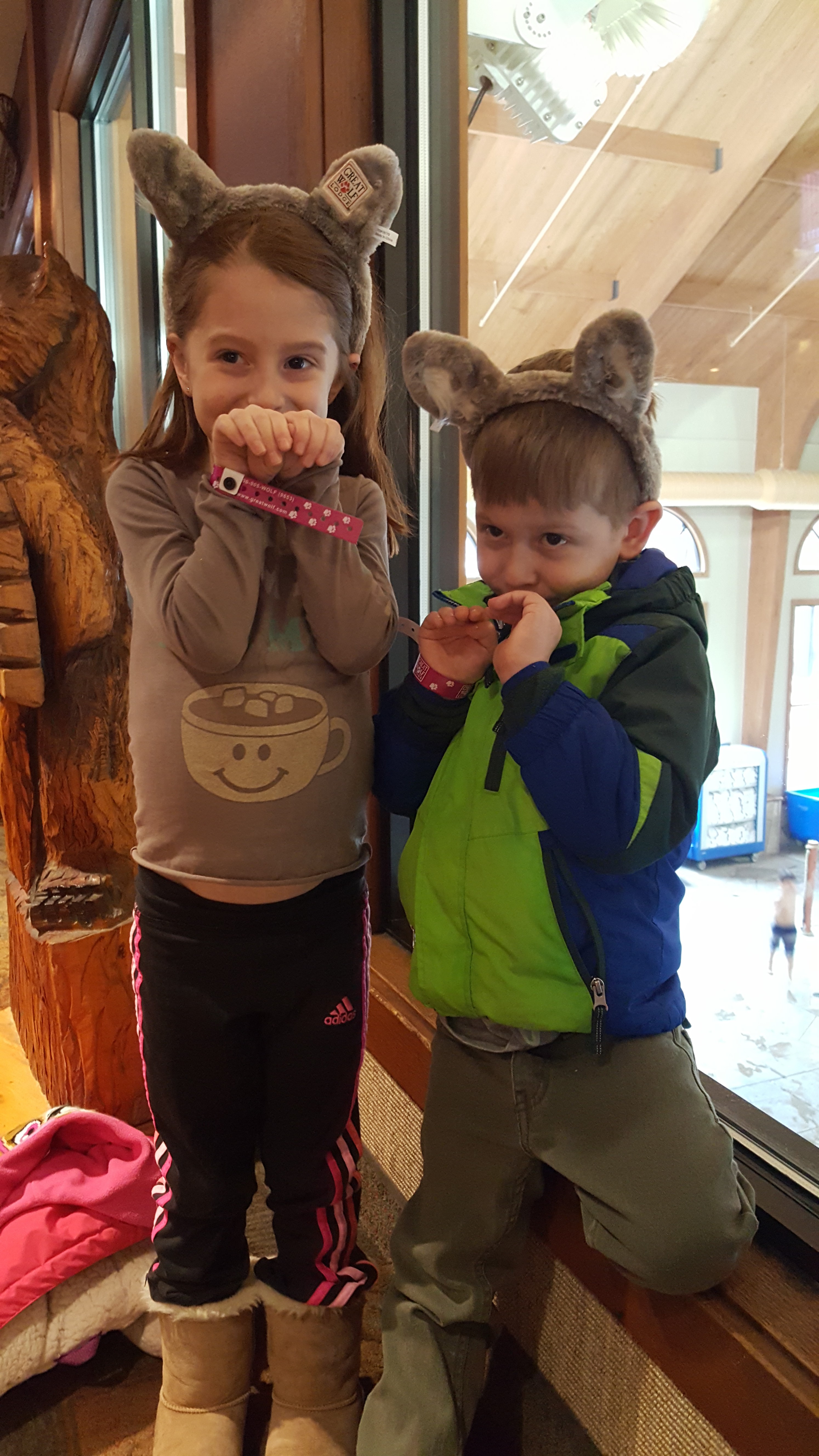 Our room wasn't quite ready, but we had access to the water park + amenities. An email would be sent to my phone once it was ready.
We went to the car to get our swim gear. As soon as we did, I got the email that our room was ready! We could get settled in our room a bit and change in our own space. The kids found the room first, which was located on the first floor, close to the arcade, locker rooms and stairs to go up to the lobby. This was a PERFECT location for little legs. Not too much walking around, like some other water park resorts we have been to.
The kids opened the door to the room and were BLOWN AWAY!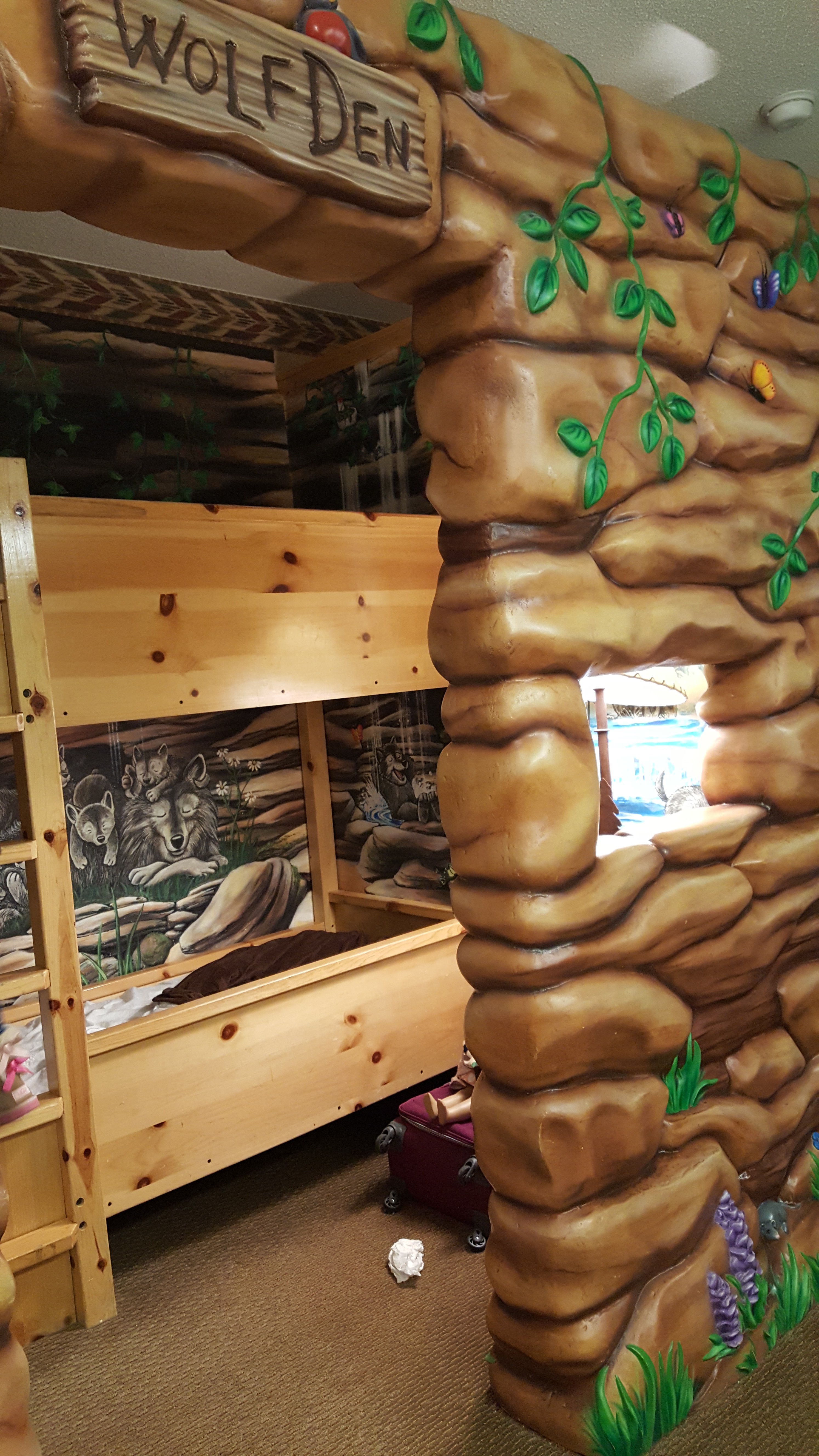 To hear their little voices squeal with excitement over their hotel stay was heart-warming. They were excited so we were excited.
We had a wolf den suite that included this adorable bunk bed area. It's semi-private so we could still watch TV while the kids slept. The kids also had their own TV in their wolf den 🙂
The rest of the room was standard, not fancy, but well-kept and nice. Usually at water park hotels that see high volumes of guests, things can get run down easily, especially the bathroom area. I'm a picky when it comes to a nice bathroom. It has to have a decent shower and vanity/sink.
We very quickly changed and headed to the water park.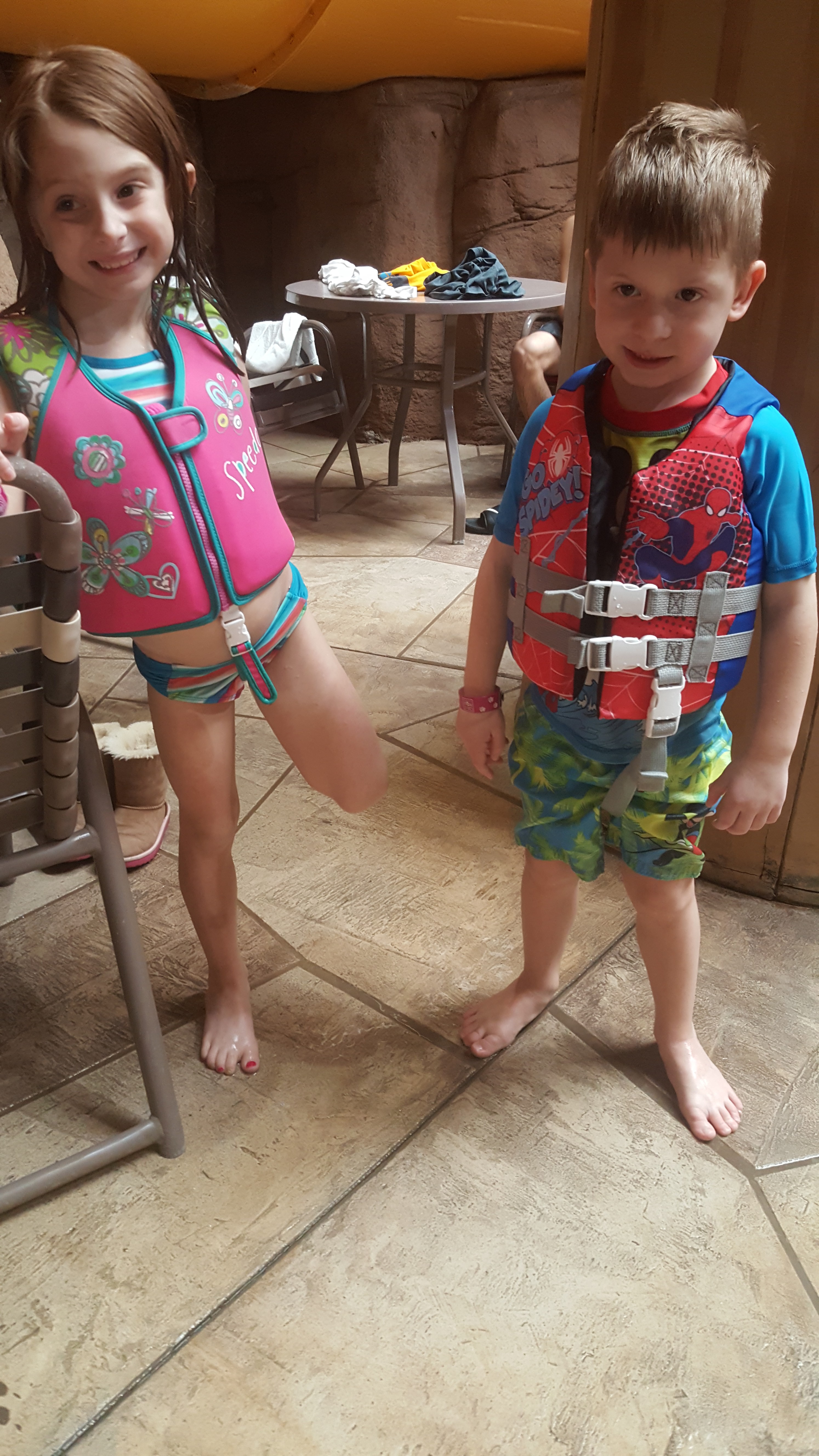 After some fun, we decided it was dinner time. The restaurant near the lobby, Lodge Wood Fired Grill, was completely nut-free, and I almost lost my mind. An entire layer of stress gone. So grateful. Chloe could order anything she wanted on the menu, a rare occurrence for us dining out! The kids menu was large, and the adult menu was wonderful, we had a hard time choosing!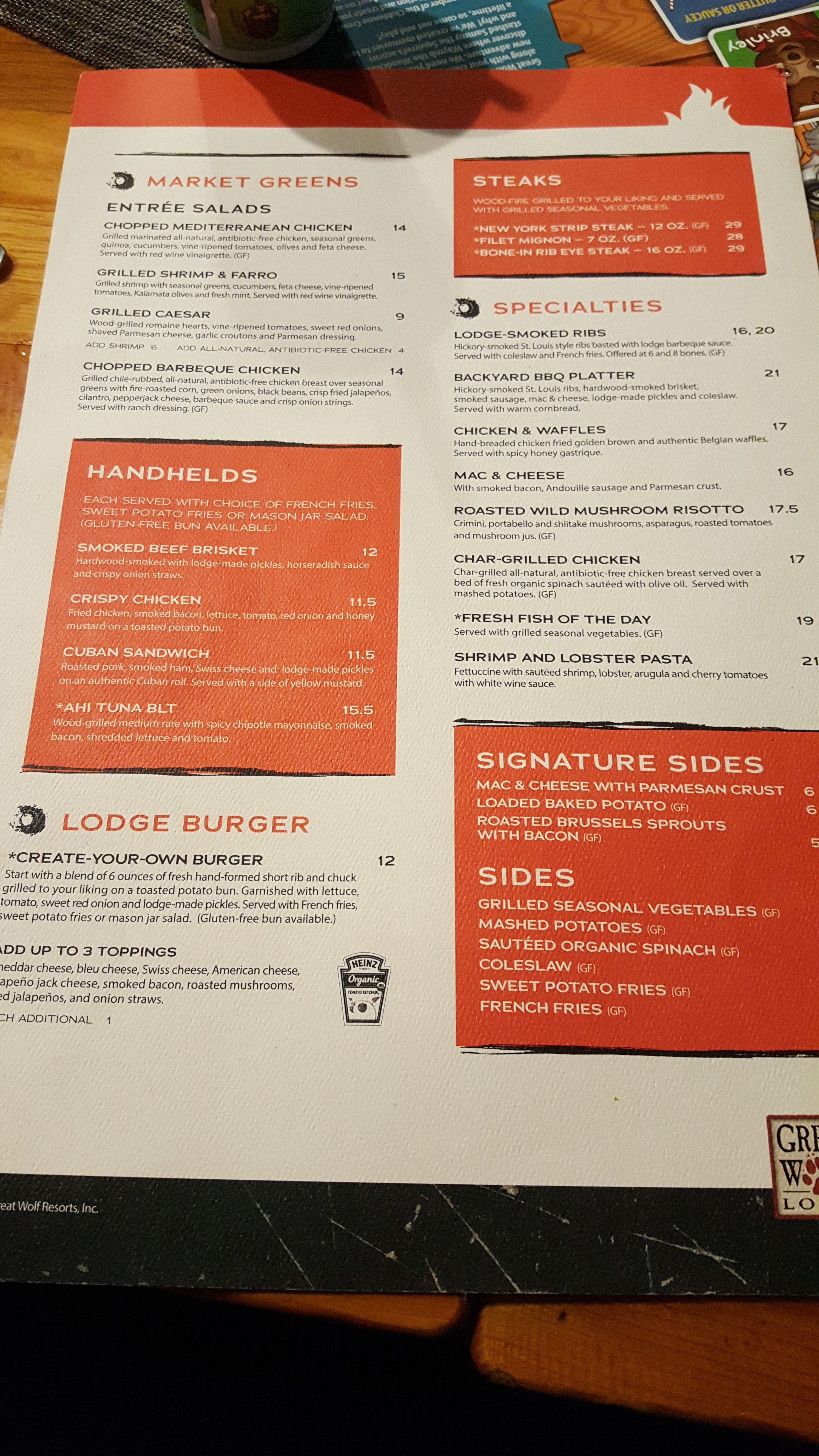 Carter was fading fast…..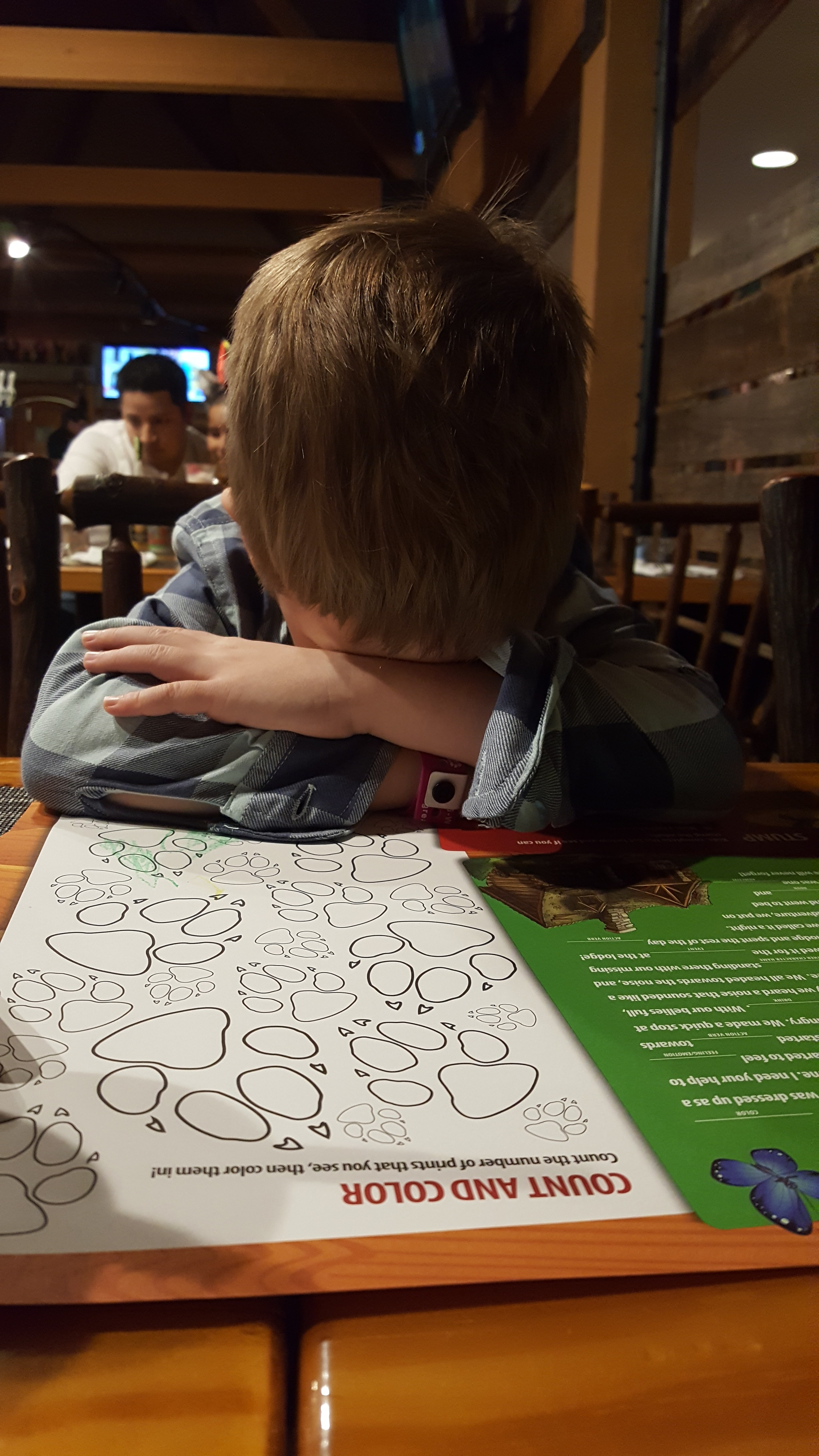 The water park really tired out both kids! We saw a cute little shop called Bear Paw Sweets and Treats. We fell in love instantly with their Enjoy Life stand of "safe" snacks for Chloe. Carter is a supportive brother, and also chose to have Enjoy Life cookies for dessert so Chloe would not feel left out. But I think they just genuinely like the way Enjoy Life brand desserts taste! I mean, I do!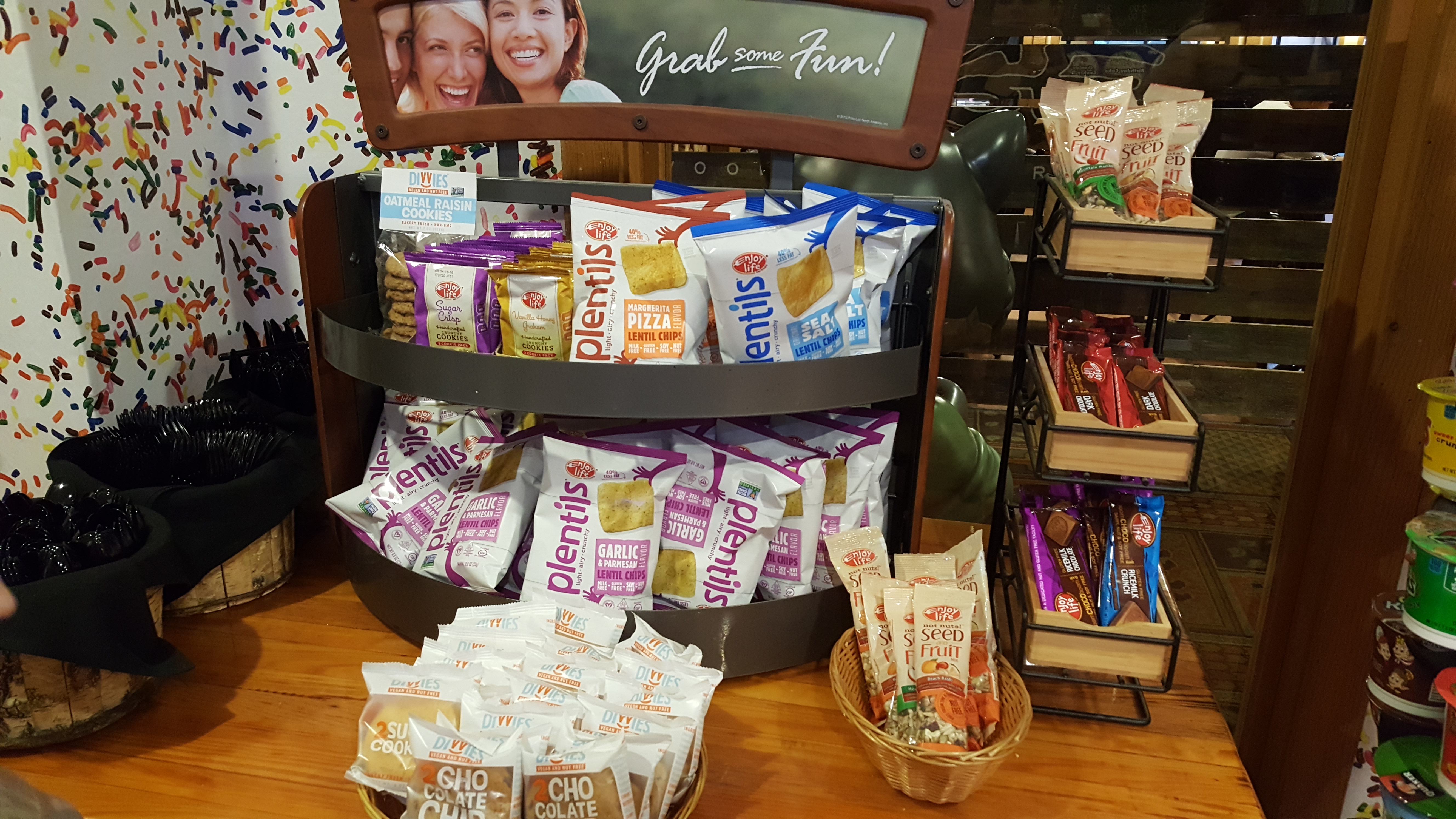 On the Great Wolf website, they make this statement:
Allergy Awareness
Great Wolf Lodge dining facilities do not serve peanut or tree nut products, but some of our products may be manufactured in facilities that also process nuts.
Carter was exhausted and went to bed, but Chloe wanted to stay up and hear story time and play trivia and have her face painted like a wolf!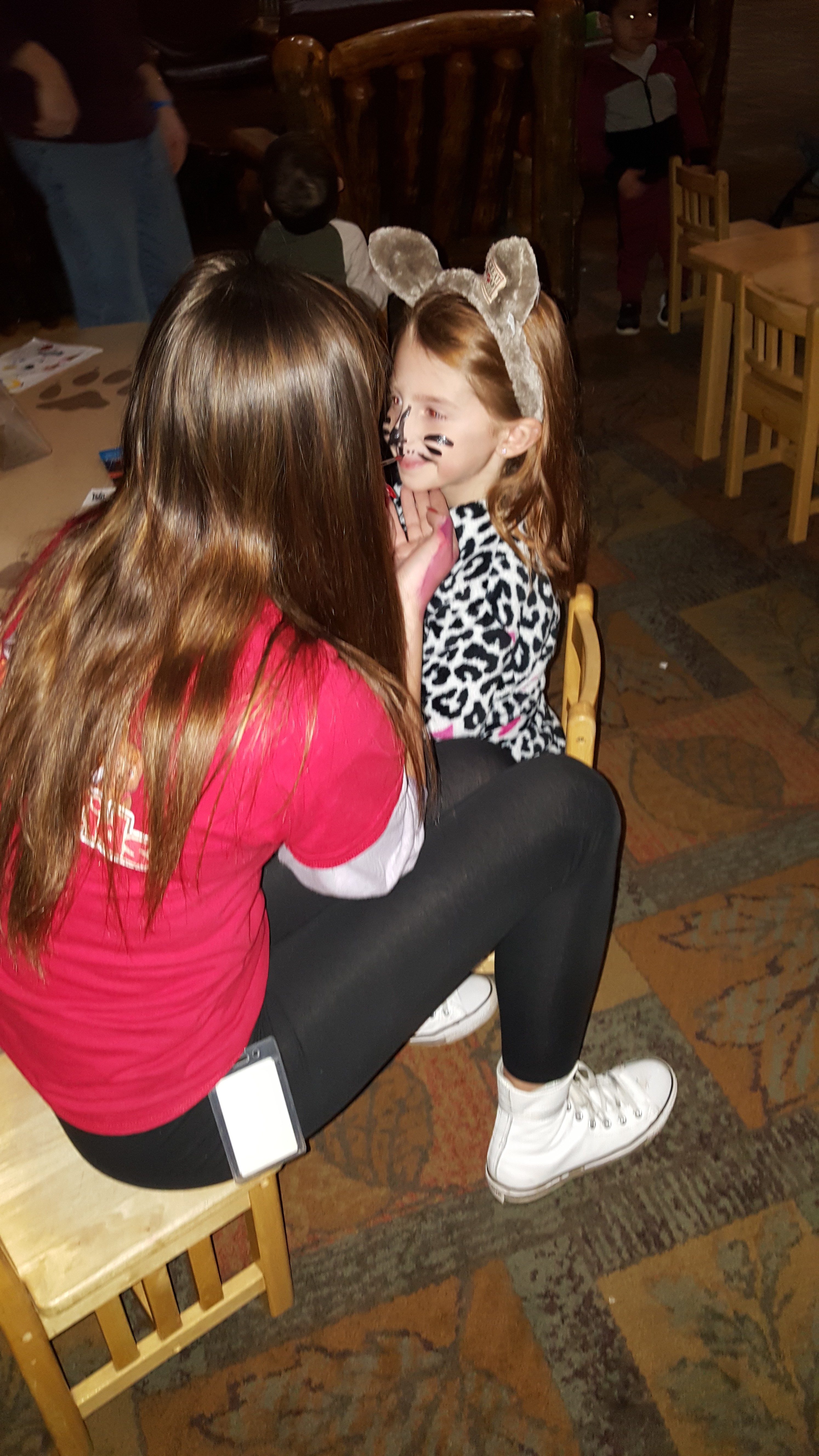 The young woman who led the child-based activities did a WONDERFUL job relating to the kids and keeping them engaged.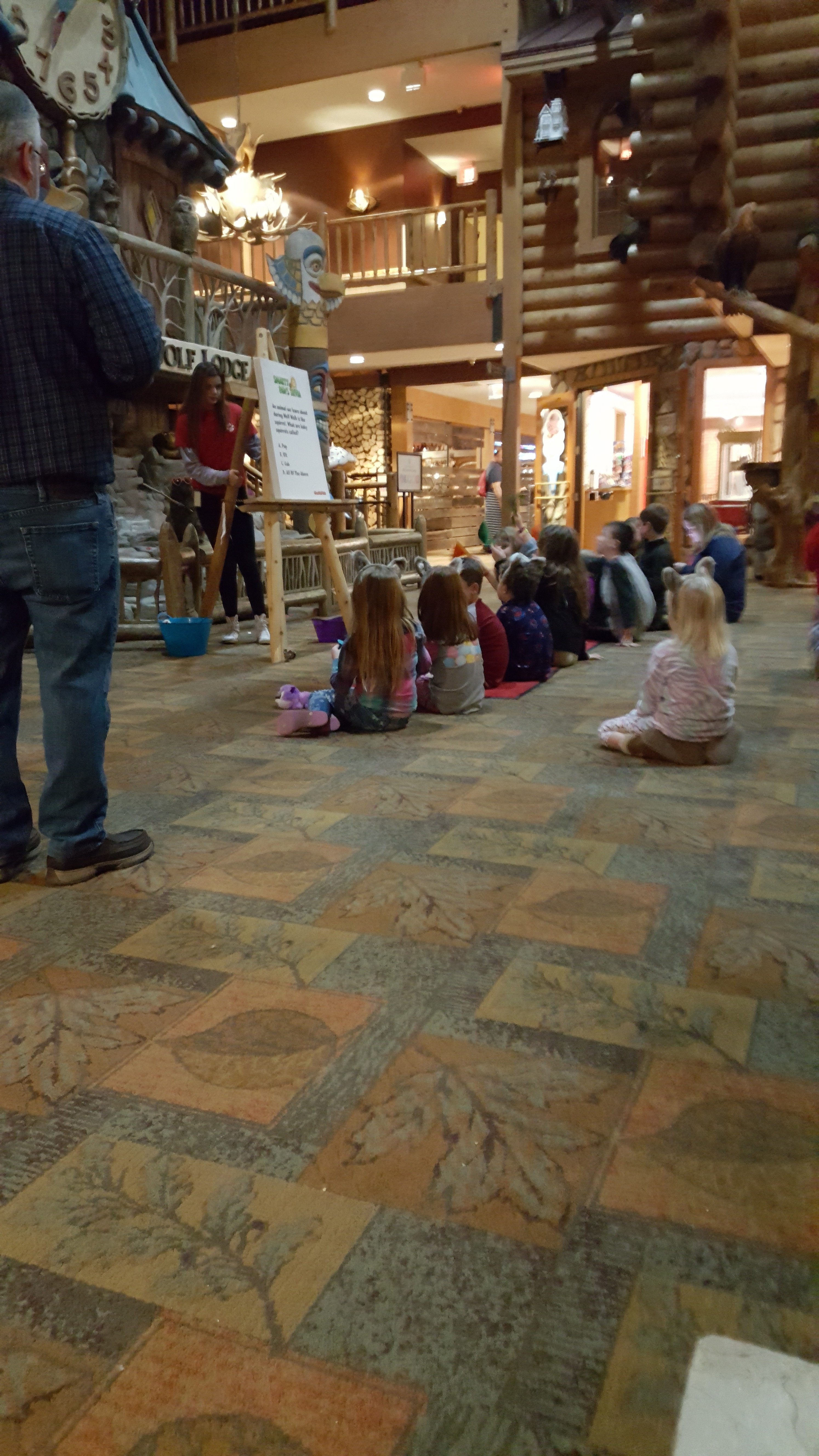 Trivia night was a success! The kids enjoyed guessing the correct answers while raising their flags. The winning teams won small prizes.  Trivia was right before story time and the lobby was PACKED. I highly recommend getting to story time about 15 minutes prior to it's start time near the clock tower. You definitely want a good seat to see the pages!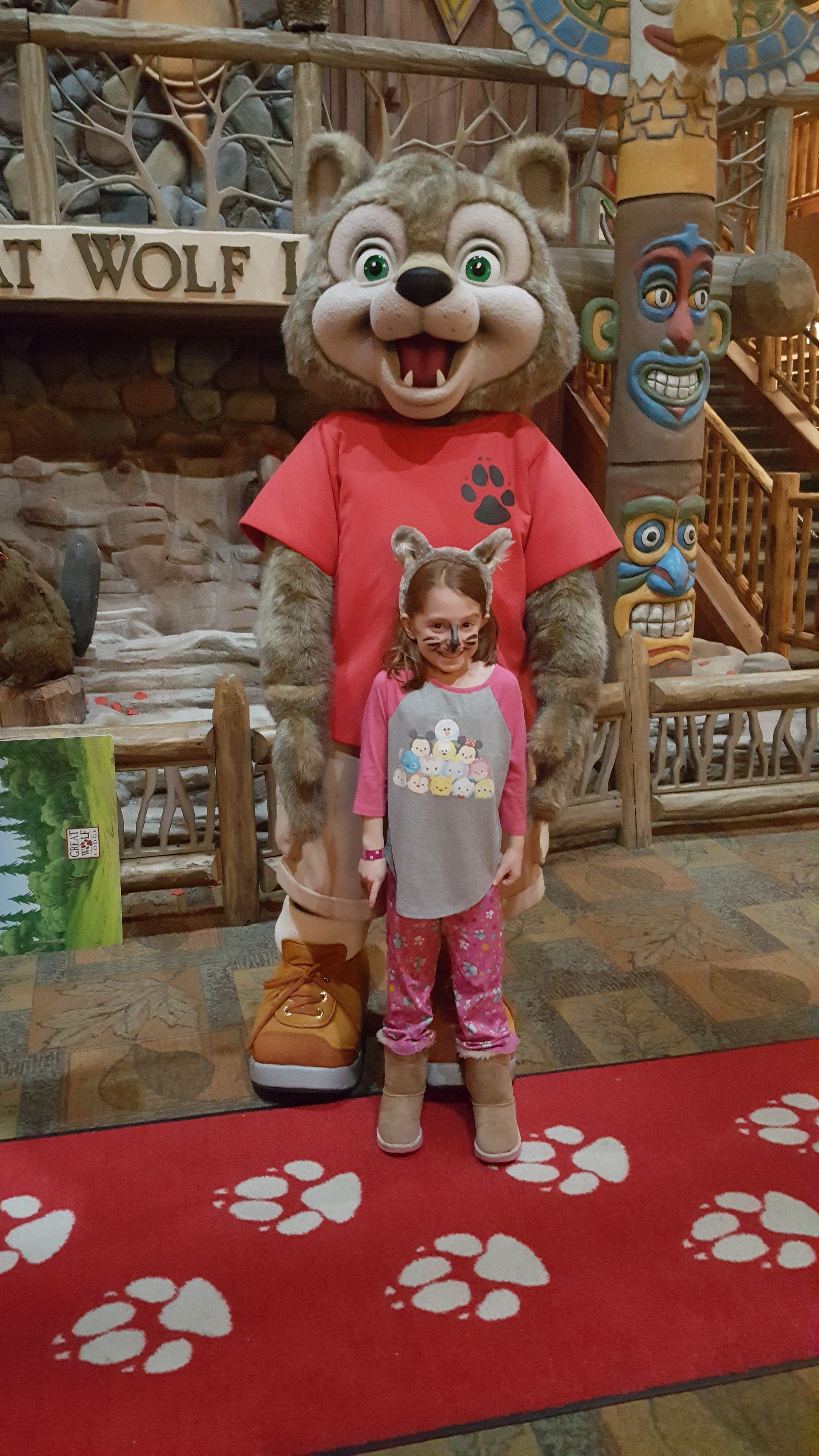 Chloe and I snuggled during story time, then she got to meet the character! Too cute. She loved it so much and told me several times how much fun she was having. All of the extra activities added so much to our trip. Other hotels do not offer this. These personal experiences make Great Wolf feel like a boutique hotel, and not just some generic water park hotel.
The next day, we had breakfast again upstairs at the Lodge which was great. We even had the same waitress who remembered the kids, she was sweet. In fact, everyone we met was wonderful and helpful.
We are so grateful for the Great Wolf Lodge, and their allergy awareness. It takes a level of stress off that us allergy families really appreciate. When we were waiting for story time to start, I met several families with food allergies, one with our exact allergies, which was nice, in a way? We shared our stories, our struggles, our epi pen advice, etc. It's a connection that happens instantly when you meet another allergy family, and you feel so much empathy for these people because you know exactly what they are going through and you relate to so much. We saw so many moms and dads with epi pens tucked in back pockets, purses, diaper bags. Epi pens were literally EVERYWHERE!
We will be back, Great Wolf! Thank you, thank you, thank you! Awesome memories made.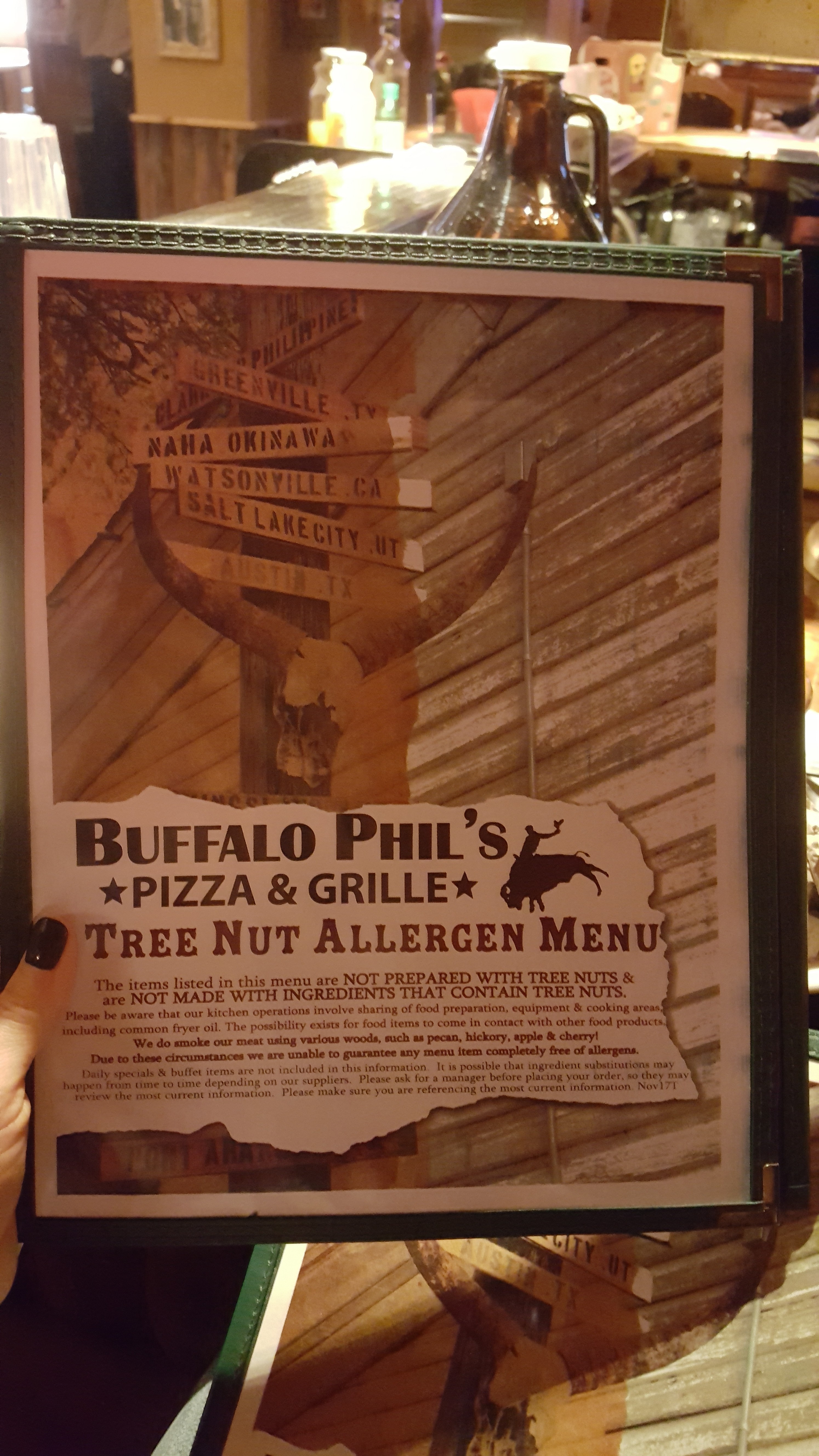 P.S. Buffalo Phil's across the parking lot is also allergy friendly. They had an entire peanut and tree nut free menu, where Chloe FINALLY got to order an actual dessert at a restaurant!!! She had the fried ice cream and it was incredible! It was also as big as her head, and the four of us demolished TWO of them! Well, that's what mini-vacations are for!