Chicken Taco Soup
Tacos are so hot right now.
If you're a taco, you're hash-tagged every Tuesday, you're the go-to for weeknight cooking, you are a pantry staple, and you're devoured within seconds of being served.
If you're a taco, you're trending + extremely popular + accessorize well with others. You may even be on a cool t-shirt.
Basically, Tacos are the new black.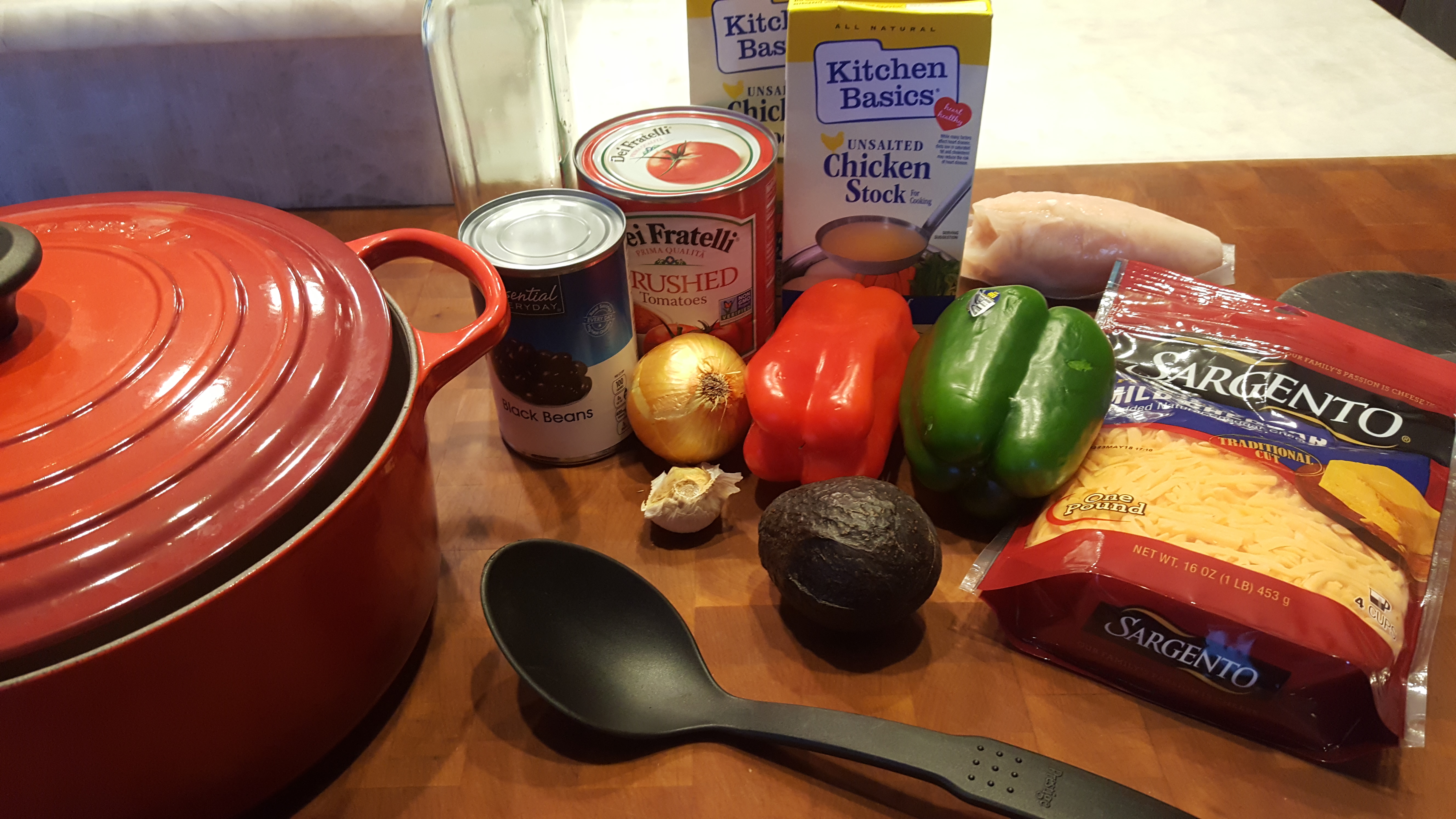 So what's taco soup?
Tonight, Carter decided to re-name this soup to Chicken Taco rather than Chicken Tortilla because, "Mamma, this is just like a taco in my soup bowl." And he's right! We poured a little soup in the bowl, topped with crushed tortilla chips, cheese and avocado. Essentially, a taco!
I took a few recipes and mashed them together to create this one. I'm sure you'll have everything in your pantry already – and if you don't, it's not a big deal…..
Ingredients
1/4 cup extra virgin olive oil
1 small onion, chopped
4 cloves garlic, minced
1 red bell pepper, chopped
1 green bell pepper, chopped
2 tsp cumin
2 tsp chili powder
2 cups of crushed tomatoes
6 cups of chicken stock
1 pound boneless, skinless organic chicken breasts
1 can black beans
1 can corn
3 tsp kosher salt
lots of fresh ground pepper
Garnish
cheese
avocado
chips (Tostitos are nut-free. Trader Joe's are NOT nut-free)
tortilla slices
jalapeno
cilantro
lime slices
sour cream if it's too spicy for your liking
Directions
In a dutch oven over medium-hi heat, add your onion, garlic and bell pepper. Saute until soft, about 8 minutes.
Add the chicken stock, black beans, corn, tomato, chili powder, cumin, salt, pepper and bring to a boil, reduce and simmer for 10 minutes.
While it's simmering, prepare your chicken. I like to cut the chicken into small cubes, about the same size as the rest of the ingredients in the soup. It's easier to eat that way 🙂
Cube the chicken and add it to the soup.
Simmer for 20-30 minutes and let it thicken.
Sample your soup and adjust the seasonings as needed. Usually, you'll need more salt, especially if you use unsalted chicken stock, like I do 🙂
Serve with desired garnishes.
The yield on this is about 8. To change it up for left over night, try serving this over jasmine rice, couscous or quinoa. You could also omit some liquid and serve in bibb lettuce wraps for a super healthy crunchy taco.
I love this soup. It's super hearty, healthy and comes together very quick. It's a good way to clean out your fridge. Weekly, we have sliced bell pepper in snack size bags, and I did have some left over this week that I threw in here, so no waste! Our fridge is pretty empty now and it's time to start planning what we'll be eating for next week 🙂 I hope you are enjoying this weekend with the ones you love the most 🙂