Broccoli Slaw Shrimp Stir Fry
Promises, promises. I said yesterday I would post this recipe, so here it is. We didn't make it due to the flu, but I'm posting anyway.


Ingredients
1 tbsp coconut oil
2 tsp grated fresh ginger (microplane)
2 cloves garlic, minced
1.5 pounds, peeled, deveined wild shrimp, sprinkled with ground ginger, onion powder, sea salt and pepper
1 (12 oz) package of broccoli slaw
1 cup shredded purple cabbage
4 green onions, end removed, rough chop
2-3 tsp toasted sesame seeds
if you do not have nut allergies, 1/3 cup unsalted cashews would be amazing with this, but alas, not for us.
Ingredients – Sauce
1/4 cup fresh orange juice
2 tbsp coconut aminos
2 tbsp raw honey
2 tbsp rice vinegar
3 tbsp water
1/4 tsp crushed red pepper flake
fresh ground pepper to taste
Directions
In a large sautee pan, stir fry the shrimp + grated ginger in coconut oil for 1 minute.
Add the sauce ingredients
Stir well and simmer for a few minutes (no more than 4 if you're using med-hi heat).
Shrimp should be pink and tails just curled in, DO NOT OVER COOK YOUR SHRIMP. Once they appear curled up and pink, turn off the heat.
Add broccoli slaw, cabbage and green onion
Simmer for 2 minutes until crisp tender, it should still be crunchy
Top with sesame seeds + serve
This can be served over jasmine rice, couscous or quinoa. Once we make it, I'll post a pic here! If you make it before be, please leave a comment/pic.
This recipe is from the Cara Clark Nutrition 10 day reset. Cara sets attainable, realistic goals using real food, easy cooking methods and in-home exercise to get healthy results. It takes time and a little work, but so worth it. The first two days were very hard, not eating the junk we usually do, but by day 3, we weren't even craving the old snacks, new and healthy flavorful snacks taste so much better!!!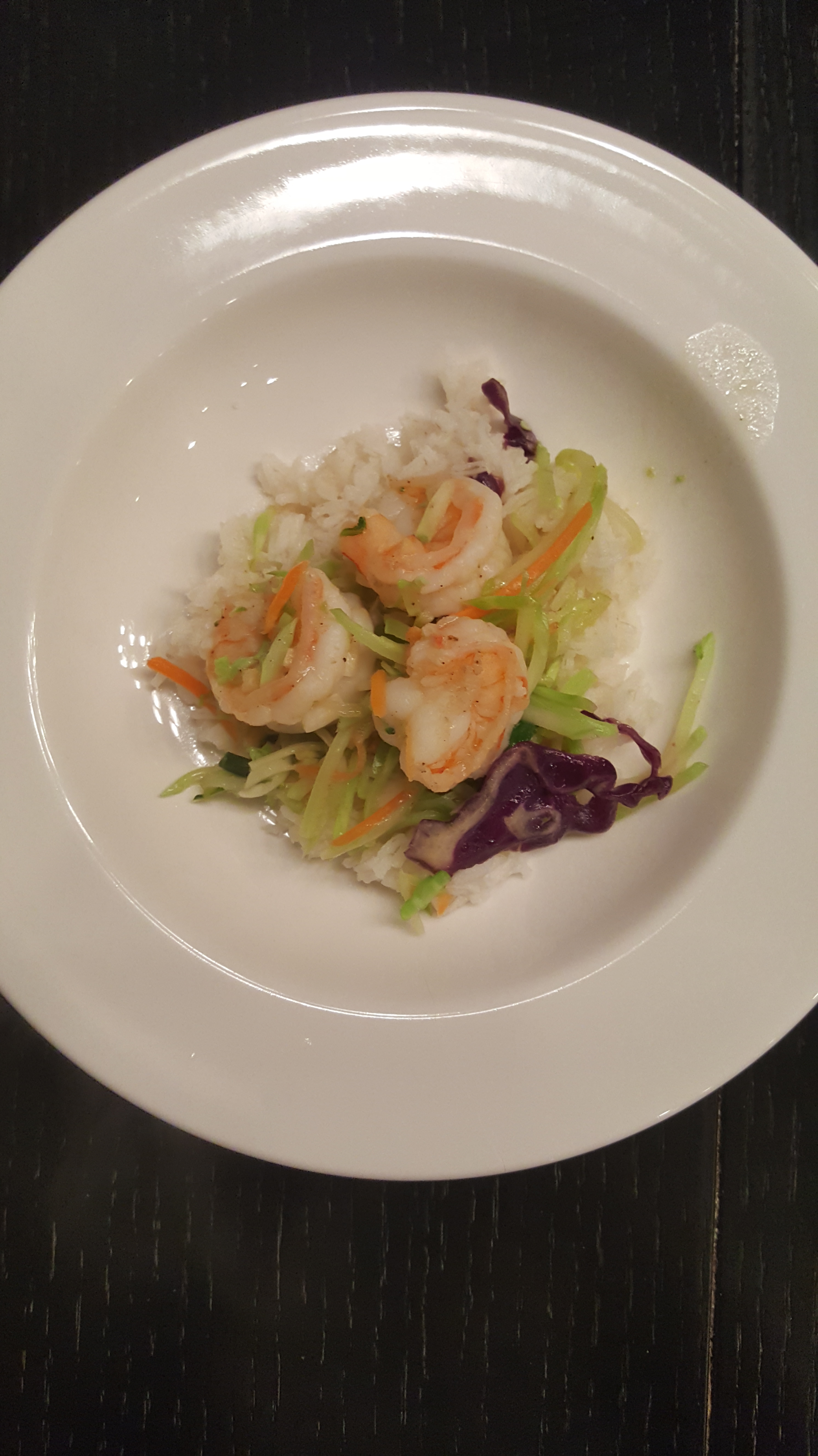 Back to soup….check out weeknight chicken soup if your little loves are under the weather. We are a Campbell's Soup household, so we stocked up on some classic red and white cans of chicken soup. Campbell's also has some amazing chicken noodle shapes, like Star Wars or Disney characters. The flavor is pretty bland, so great for sick kiddos. If you want to spice it up, add a teaspoon of the following:
garlic powder
onion powder
oregano
thyme
Have a great weekend! Be well.