Grandpa Joe's Peach Pie
Have you ever had a bad "technology" day?!
Eat pie, that's the answer for everything!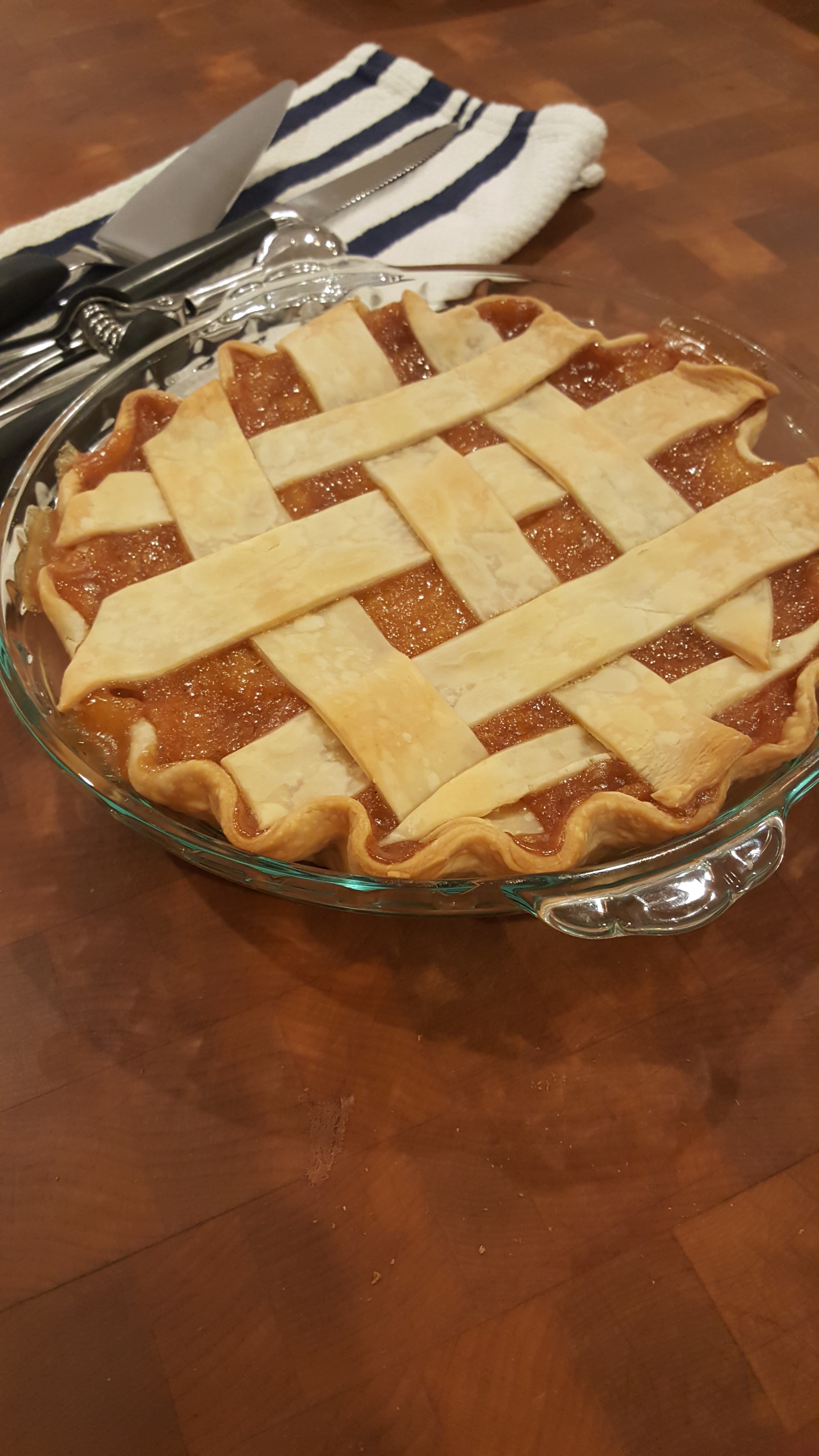 Just kidding…
For some reason, every device in our house needs an update today, or to reconnect to the wireless network, or it doesn't want to work properly, or it's just down right slow. Maybe our devices dislike this arctic blast of cold Wisconsin air as much as we do.
Alas, I've decided to give our wireless printer the benefit of the doubt. I NEED this printer to work. It's been with me since I started my masters in 2009.  We decided to crank the furnace and say many, many nice things to dear old printer. We've changed all of the ink, unplugged it, re plugged it, uninstalled it, reinstalled it, downloaded something called "drivers" and still…..nothing. It makes happy noises, and deep down I know it's OK. It's just one of those days. We all have them. Maybe printer will be happier in 2018.
I have not amazon primed a new one, YET.
Anyway, I thought I would jump on here and tell you about another, yes, ANOTHER baked item. Really, so sorry about the junk food this month. Promise to get back to healthy, nutfreemomblog stuff.
Peach Pie is so good – I wouldn't tell you about it if it wasn't. My Dad has a random peach tree in his yard. He doesn't do much to it, no fertilizer, nothing. And it produces a crazy amount of peaches, which is awesome. My Dad brings me preaches when he visits, and I store them carefully in my freezer for smoothies or recipes. This time, he brought a lot, about 3 cups worth, and I decided to try peach pie to use up the last of my pie crusts from Thanksgiving (or so I tell myself).
Grandpa Joe's Peach Pie
1/2 cup sugar

1/4 cup packed brown sugar

4 cups sliced peeled peaches

Pastry for double-crust pie (9 inches) – I use Pillsbury, they are safe

3 tablespoons cornstarch

1/2 teaspoon ground nutmeg

1/2 teaspoon ground cinnamon

1/4 teaspoon salt

2 teaspoons lemon juice

1/4 teaspoon vanilla extract – I prefer Penzeys

1 tablespoon unsalted room temperature butter
Directions
In a large bowl, combine sugars; add peaches and toss gently.

Cover and let stand for 1 hour (or 15 minutes like me!!!)

Line a 9-in. pie plate with bottom pastry. Set aside.

Drain peaches, reserving juice.

In a small saucepan, combine the cornstarch, nutmeg, cinnamon and salt; gradually stir in reserved juice and vanilla. Bring to a boil; cook and stir for 2 minutes or until thickened.

Remove from the heat; stir in lemon juice and butter. Gently fold in peaches.

Pour into crust.

Roll out remaining pastry.

Make a lattice crust.

Cover edges loosely with foil. Bake at 450° for 25 minutes.

Remove foil. Reduce temperature to 350°; bake 20-25 minutes longer or until crust is golden brown and filling is bubbly.

Cool on a wire rack.