Christmas Morning Biscotti
You didn't think cookies were just for the kids, did you?
Of course not!
Grown up cookies just have fancy names, like biscotti, or macaroon or petit fours. All go great with coffee or hot cocoa or tea!
Biscotti is notoriously made with nuts, and completely unsafe in our house, so we make our own. Like everything else. This recipe is probably the easiest baking recipe I have. Literally can make it with my eyes closed. Just double the batch, you know the kids will also be into this since YOU'RE eating it (and your kids always want what you have, of course), and it keeps for a LONG time. Biscotti is just a giant stale cookie after all.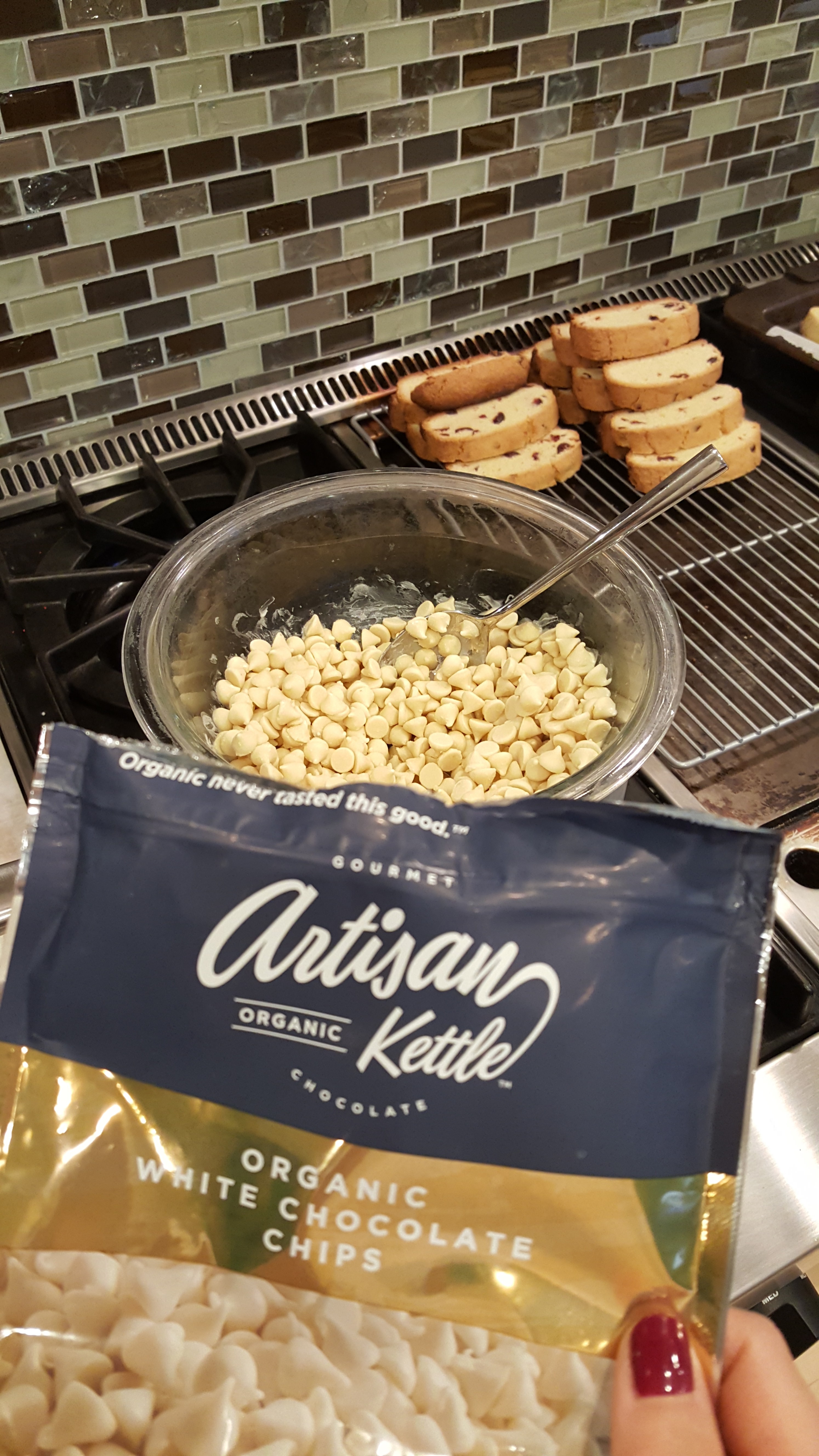 If you add the cranberry, it really gives it a festive look! The lemon is a must, it adds a brightness that is very nice! This recipe was adapted from Giada De Laurentiis.


Ingredients
2 cups all-purpose flour
1 1/2 teaspoons baking powder
3/4 cup sugar
1/2 cup (1 stick) unsalted butter, room temperature
1 teaspoon grated lemon zest
1/4 teaspoon salt
2 large eggs
1/2 cup dried cranberries
12 ounces white chocolate, Artisan Kettle White Chocolate is NUTFREE
Red and green sugar
Directions
Preheat the oven to 350 degrees F.
Line a heavy large baking sheet with parchment paper.
Whisk the flour and baking powder in a medium bowl to blend. Using an electric mixer, beat the sugar, butter, lemon zest, and salt in a large bowl to blend. Beat in the eggs 1 at a time. Add the flour mixture and beat just until blended. Stir in the cranberries if you like.
Form the dough into a 13-inch long, 3-inch wide log on the prepared baking sheet. Bake until light golden, about 40 minutes (I bake mine for 30 minutes rather than 40). Cool for 30 minutes.
Place the log on the cutting board. Using a sharp serrated knife, cut the log on a diagonal into 1/2 to 3/4-inch-thick slices. Arrange the biscotti, cut side down, on the baking sheet. Bake the biscotti until they are pale golden, about 15 minutes. Transfer the biscotti to a rack and cool completely.
Stir the chocolate in a bowl set over a saucepan of simmering water until the chocolate melts. Dip half of the biscotti into the melted chocolate. Gently shake off the excess chocolate. Place the biscotti on the baking sheet for the chocolate to set. Sprinkle with the sugar crystals. Refrigerate until the chocolate is firm, about 35 minutes.
The biscotti can be made ahead. Store them in an airtight container up to 4 days, or wrap them in foil and freeze in resealable plastic bags up to 3 weeks.

Check out these nut-free marshmallows we found at Fablogcon!