NYT Rhubarb Crisp
My sweet sweet neighbor Maryellen gave me a TON of fresh rhubarb last week. We love rhubarb season. Today's cookout was the perfect opportunity to debut this New York Times Rhubarb Crisp recipe.
(I LOVE the New York Times recipes, they ALWAYS are fabulous. And I love reading the paper. A dead medium, I know. But it's relaxing to me).
Usually during this time of year we make rhubarb cake, but I wanted something a little lighter, faster and less cakey. Needless to say, this crisp was a crowd pleaser. My only regret is that I didn't make a double batch to share with more friends! This dish is a 9 x 9 and if you dish out dessert like I do, it will only have 9 servings 🙂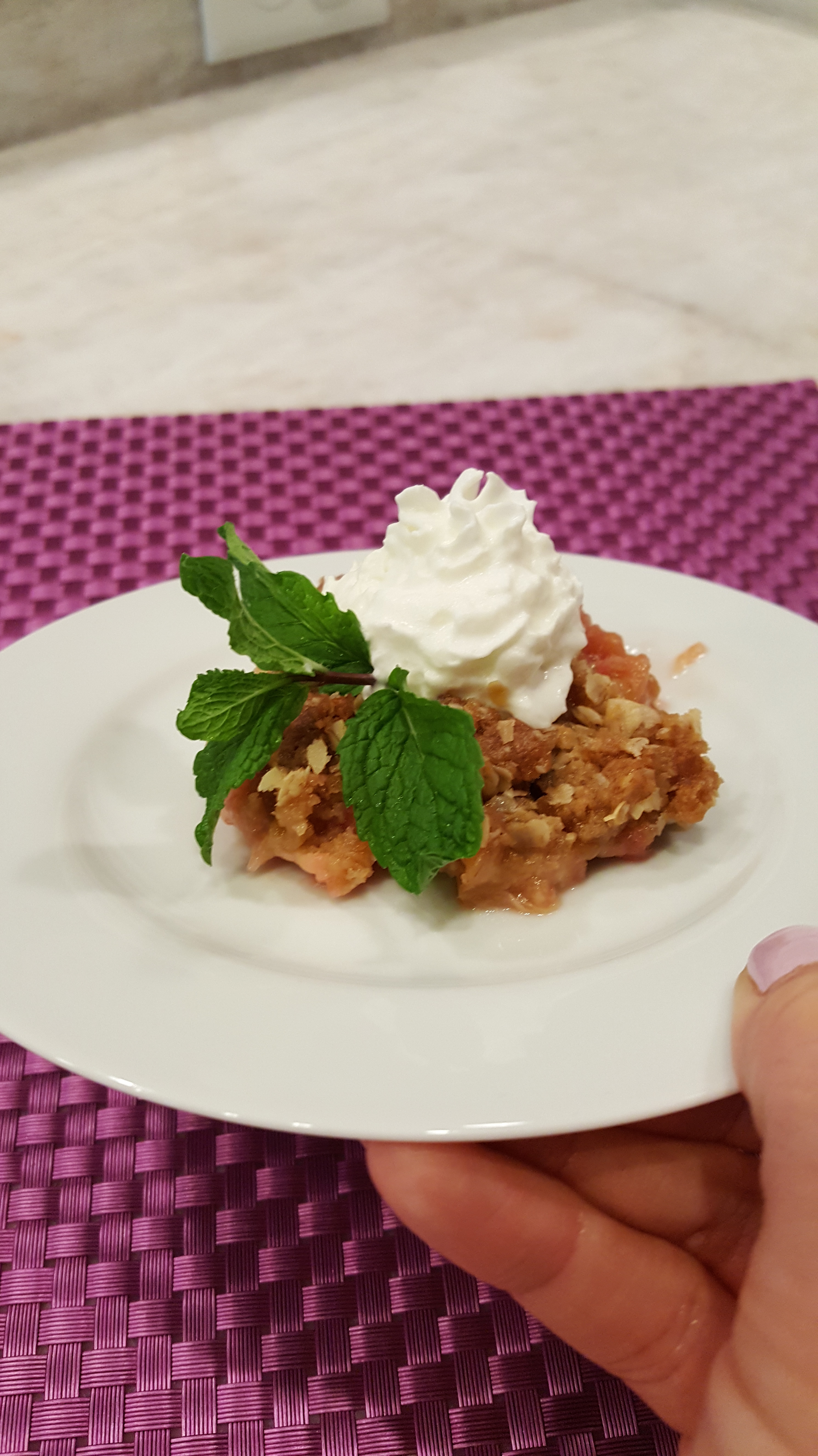 What made this recipe even better was that I made it with my sweet daughter. She's a smart cookie in the kitchen and very helpful. She prepped the 9 x 9 pan, and got all of the ingredients ready on the counter top while I chopped 6 cups of rhubarb.
We had fun and dessert is that much sweeter when it's made with love.
Ingredients:
6

tablespoons cold butter, cut into small pieces, plus more for greasing pan

2 ½ to 3

pounds rhubarb, trimmed, tough strings removed, and cut into 1 1/2-inch pieces (about 5 to 6 cups)

¼

cup white sugar

1

tablespoon orange juice

1

teaspoon orange zest

¾

cup brown sugar

½

cup all-purpose flour

½

teaspoon cinnamon, or to taste

Pinch salt

½

cup rolled oats (Quaker Oats)
Directions:
Heat oven to 375 degrees. Grease an 8- or 9-inch square baking or gratin dish with a little butter. Toss rhubarb with white sugar, orange or lemon juice and zest, and spread in baking dish.
Put the 6 tablespoons butter in a food processor along with brown sugar, flour, cinnamon and salt, and pulse for about 20 or 30 seconds, until it looks like small peas and just begins to clump together. Add oats and pecans and pulse just a few times to combine.
Crumble the topping over rhubarb and bake until golden and beginning to brown, 45 to 50 minutes.
*a quick short cut if you do not want to get out your big food processor (ours is 12 cup and mammoth, then cleaning it, don't even get me started) I used my nutribullet smoothie maker to blend up the dry ingredients. It doesn't need to be perfect, just a few zaps. I added the oats and mixed in by hand, then dumped the entire container into my recipe.
Serve with ice cream, whip topping, yogurt, mint, or as is.
I hope you enjoy this fun, sweet, tart recipe as much as we did.