Disney Prep
The holidays are over and we're full-on running into 2017. So far, so good. Knock on wood. It's my daughter's birthday next week, so we've got a countdown going on for the big "6" – and her fun little party we have planned.
The following weekend, my husband and I are going on our annual "fancy" fundraiser winter date with friends. Planning date nights with two kids is WAY more challenging than we ever thought. We have been planning this date since November, and just secured a babysitter in late December. We are crossing our fingers that the virus we have now is the last one we get before our date night and Disney departure. Speaking of Disney, if you follow me on insta, you saw my photo of "Nut-free items we ship" for vacations.
This little box (any size, recycled Amazon or Target box works) packed with breakfast items, snacks and protein bars takes the guess work out of our trip. No safe snack around, no big deal, we have it covered.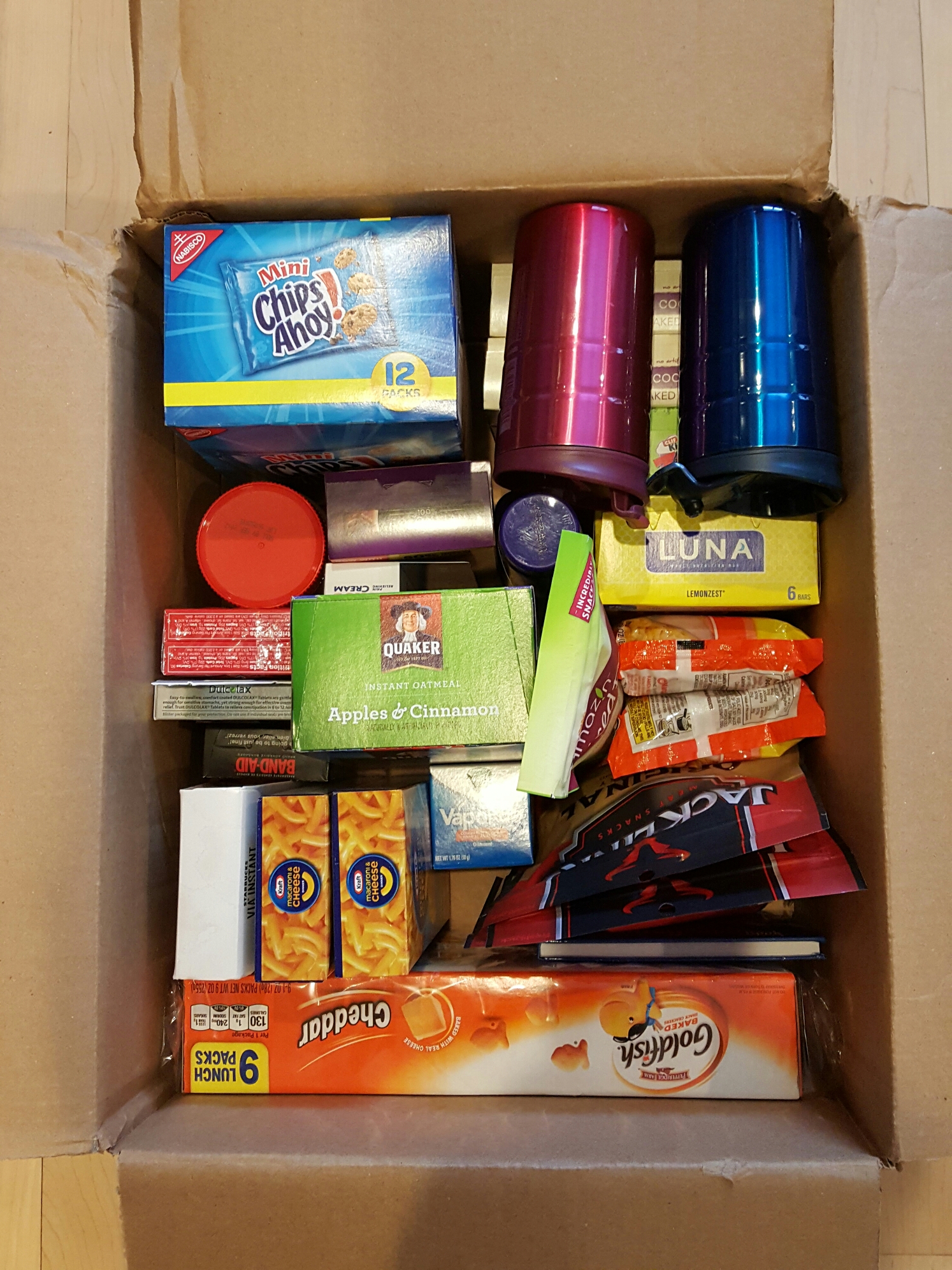 Disney is already amazing when it comes to food allergies; however, I clearly remember walking through Hollywood Studios in 2014 realizing that they had ZERO nut-free snacks for my kiddo. We were not up for a sit down meal, we just wanted a giant pretzel or something. This was not an option for us. We have learned a lot. This year my hubs and I are including:
Backpack – Each wearing a backpack with safe snacks and drinks for both kids.
Adult snacks – Bringing a few Cliff/Luna bars for us. We don't want to "waste time" eating when we could be having fun on rides!
Stroller – Taking our double recline-able stroller so both kids can ride, or recline and nap while we walk to/from rides and parks.
Nut-Free – Shipping a box of safe treats, Sunbutter and jelly sandwiches
Wine + Spirits – Shipping a booze box (you can buy a bottle of wine from the resorts at a ridiculous mark-up)
Bringing GIGI! Yes, Disney has camps available for kids during the day and evening hours, but nothing beats having Gigi available 24/7 in her own private adjoining room. Don't worry, I've booked her a spa day at Senses at the Grand Floridian and she has a special treat in my wine box coming.
Warmer layers – it can easily get down into the 40s very quickly.
Disney Photo Pass – let Disney handle the pix, download later. BE IN THE MOMENT!
Cooking in our room – we have a full kitchen, our kids don't eat a TON of food, thus dining out for every meal is pretty wasteful and expensive right now for us. We've shipped easy lunch time food to make on the days we are "relaxing" at our resort.
Beach bag/tote – it's easy to forget how large some of these resort grounds actually are. It's important to have something to haul wet suits, water shoes, life jackets, etc. around in.
Since I've been interrupted 11 times since starting this post, I'm ending it now! Have a great Tuesday! I'll post pre-flight Convo with Southwest soon!